Freda Delsrude Lewis
March 2, 1919 - April 14, 2012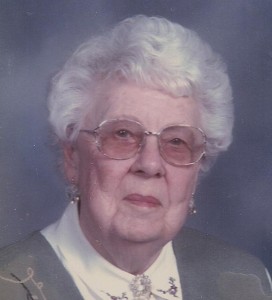 Freda Delsrude Lewis, 93, of Janesville, WI passed away unexpectedly at her home at Cedar Crest Retirement Home on Saturday, April 14, 2012. Freda was born on March 2, 1919 in Spring Valley Township, Rock County, WI, the daughter of Albert and Amanda (Freeman) Delsrude. She graduated from Janesville High School in 1936. In 1942 she volunteered and was accepted into the U. S. Navy WAVES and served at Indiana University and Chicago University during World War II. In June of 1943, the U.S. Navy man to whom she was engaged, returned to the United States after almost 4 years of service in the Philippine Islands, South Pacific and Australia during World War II. On October 10, 1943, she and E. Frank Lewis, CPO-USN, were married at First Lutheran Church in Janesville by Pastor Myron Austinson. After one week of leave, each returned to their duty stations at Chicago University and Pensacola, Florida. After her honorable discharge from the Navy in 1945, she joined her husband in Pensacola and they lived in many places during the following years. In 1953, their home was built in Bloomington, MN and the family including four daughters stayed there until all of the daughters finished school at all levels. In 1966, Mr. Lewis passed away. Freda was employed by the City of Bloomington in the accounting department for 15 years retiring in 1989 when she returned to Janesville and lived at the Willard Haus. In 2010 she moved to Cedar Crest.
Freda was pre-deceased by her husband, a brother and sister in early childhood, her parents, brother, Arnold Delsrude, his son, David, three sons-in-law, Frank Russell, Lee Crawford, Richard Sartwell who were all service veterans, her sister, Eva Johnston, 3 sisters-in-law, Helen Lewis McLay, Genevieve Lewis Wickman and Marjorie Lewis Wentler She is survived by her daughters, Karen Russell and extended families including 3 step-children and their extended families, Kathleen (Stephen) Johnson, Susan (Jim) Jenson and extended families, Sandra Crawford. She is further survived by her sister-in-law, Amy Delsrude and extended families. Also surviving are a very special friend, Hjalmer "Jolly" Hanson and his extended families.
Funeral services will be at 11 a.m. Thursday, April 19, 2012 at Faith Lutheran Church, 2116 Mineral Point Ave., Janesville. Pastor David Andert will officiate. Interment will be in Fort Snelling National Cemetery, St. Paul, MN. Visitation will be from 10 to 11 a.m. Thursday at the church. Memorial are preferred to Faith Lutheran Church Building Fund or Cedar Crest Foundation. The family is being assisted by Henke-Clarson Funeral Home. www.henkeclarson.com.