Frederick J. Ward
May 21, 1938 - July 14, 2012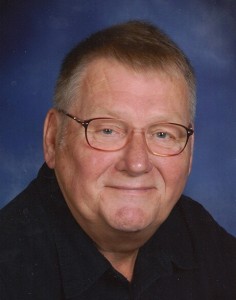 Frederick J. Ward, 74, of Janesville passed away at his home Saturday, July 14, 2012 surrounded by his family following a brief battle with cancer. Frederick was born in Janesville on May 21, 1938, the son of Frederick William and Evelyn Evie (Davis) Ward. He served in the U. S. Navy from 1955 to 1957 and was a member of the Navy Reserves until 1963. Fred was formerly employed by Norwood Mills, Beatrice Foods, Dana Corporation and General Motors from which he retired in 2000. Until his recent illness, he worked for Meal Magic. Fred was a member of Bethel Baptist Church, U.A.W. Local # 95, the YMCA and a wood carving group. In addition to wood carving, he enjoyed leather work, gardening and above all being with his family and friends especially his three grandsons.
Surviving are his wife of 52 years, Ellen, whom he married on February 12, 1960, two daughters, Diana "Dee" Ward of Janesville and Brenda (Richard Sr.) Mellom of Milton, three grandsons, Richard Dale Mellom Jr., Christopher Ward Mellom, Nikolas Isak Mellom, his brother, Delbert (Ann) Ward of Fort Atkinson, his half sister, Gloria Jean Manz, nieces and nephews. He was preceded in death by his parents, and his half brother, Leonard Kelm.
Funeral services will be at 11 a.m. Wednesday, July 18, 2012 at Bethel Baptist Church, 3300 Mt. Zion Avenue, Janesville. Rev. George Kalb will officiate. Burial will follow in Oak Hill Cemetery with military honors by Kienow-Hilt V.F.W. Post # 1621. Visitation will be from 5 to 7 p.m. Tuesday, July 17th at Henke-Clarson Funeral Home. www.henkeclarson.com.