Frederick W. Kant
Jun 25, 1920 - October 6, 2012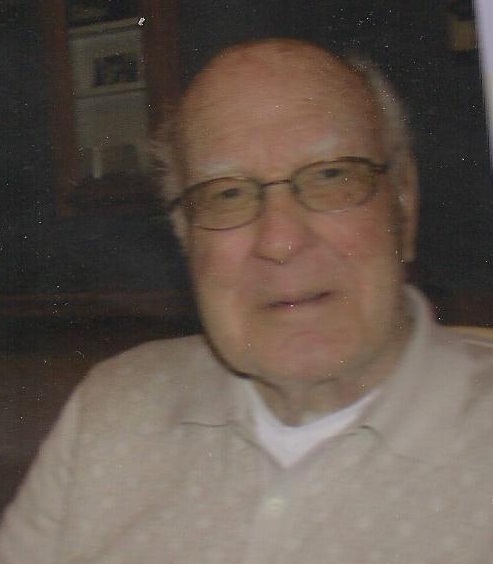 Frederick W. Kant, 92, of Janesville, WI passed away peacefully on Saturday, October 6, 2012 while surrounded by his family at Huntington Memory Care. He was born June 25, 1920 in Clintonville, WI, the son of Carl and Angela (Altendorf) Kant. He graduated from Clintonville High School and from St. Norbert College where he was captain of the football team. Fred served in the U. S. Army during World War II. He was stationed in the European Theater and participated in D-Day. He received the purple heart after being wounded in battle. He later served in General Dwight Eisenhower's honor guard. Fred married Eleanor M. Zelten on February 22, 1945. She preceded him in death on April 7, 1999. Fred was employed in the auto industry for all of his working career, having worked for Studebaker Motors, Ford Motors and Chrysler Corp. After moving to Janesville he was employed by Wells Motors until retiring in 1985. He was a member of St. John Vianney Catholic Church where he was active as an usher, had served as a chairperson for the Fall Festival and was very active with the Knights of Columbus.
In addition to being active in his church, Fred enjoyed bowling, golfing and playing cards. Being a life-long Packers fan, while residing in Green Bay in the 1960's, he was president of the Packer Backers Club. In addition to his family, Fred's first love was working on automobiles, spending many hours at this hobby.
Surviving are five children, Kathryn Kant of Pewaukee, WI, Jeffrey (partner- Mark Albi) Kant of Colfax, CA, Karen (fiancee- Roy Bishop) Kant of Glendale, WI, Kristine (David) Miller of Cincinnati, OH, James (Teresa) Kant of Murfreesboro, TN, seven grandchildren, Paul, Mark, Michael, Marie, Grace, Christopher, Melisa, three great-grandchildren, Jamie, Jasmine and Joey. In addition to his wife and parents, he was preceded in death by three brothers, Carl, Victor and Earl, two sisters, Louise and Antoinette and a special friend and companion, Ruth Ann Masterson.
"Fred's family wishes to express a special thanks to the staff of Huntington Place, especially the aides at Memory Care II. Also to Heartland Hospice for their compassionate care, love and support during this time."
Visitation will be from 10 to 11 a.m. Tuesday, October 9, 2012 at St. John Vianney Catholic Church, Janesville with a Mass of Christian Burial to immediately follow at 11 a.m. Tuesday at the Church. Father Randy Timmerman will officiate. Following the mass, military rites will be accorded by Kienow-Hilt V.F.W. Post # 1621. In lieu of other expressions of sympathy, memorials may be made in Fred's name to the Knights of Columbus at St. John Vianney Catholic Church. The family is being assisted by Henke-Clarson Funeral Home.