George Baes
March 16, 1922 - April 1, 2017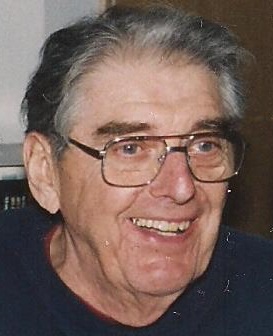 George Baes, 95, of Janesville, WI died Saturday, April 1, 2017 at his home. George was born in Chicago, IL on March 16, 1922, the only child of Cyriel and Stephanie (Von Dormme) Baes. During World War II George was a member of the U. S. Army's 14th Armored Division and served in Germany under General George Patton. He married Lois Mae Bernard on May 24, 1947. A Janesville resident since their marriage, George was a member of the International Brotherhood of Electrical Workers for 60 years and employed by Westphal Electric Company. He last worked at the power plant in Normal, IL.
Surviving George are his wife of 70 years, Lois, two daughters, Phyllis (Bruce) Bender of Papillion, NE, Peggy (special friend – Arnie DeGarmo) Nimmo of Janesville, two granddaughters, Stephanie (Eric) Monson, Stacey (John) Haight, two great-grandchildren, J T Haight, Gabby Monson and his beloved dog, Hobo. His parents, Cyriel and Stephanie Baes preceded him in death.
George's family wishes to thank Home Instead and Agrace Hospice for the wonderful care they gave to George. A special thank you to Jane of Home Instead who has become just like a member of the family with her many kindnesses to both George and Lois.
Visitation will be from 10 to 11 a.m. Thursday, April 6, 2017 at First Lutheran Church, 612 N. Randall Ave. with funeral services to follow at the church at 11 a.m. Rev. James Johnson will officiate. Burial will be in Milton Lawns Memorial Park where military rites will be conducted by Kienow-Hilt V.F.W. Post # 1621. Memorials may be made to Agrace Hospice. The family is being assisted by Henke-Clarson Funeral Home (608-741-1713).