George J. McCarville
December 9, 1926 - June 22, 2012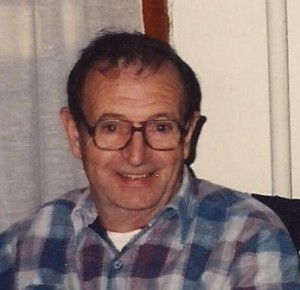 George J. McCarville, 85, of Janesville , WI passed away at St. Mary's Hospital, Madison on Friday, June 22, 2012. George was born in Beloit, WI on December 9, 1926, the son of Frank and Cecelia (Terhorst) McCarville. He graduated from Beloit Memorial High School. He was a veteran of the Merchant Marines. George married Barbara F. Hafenbreadle on May 13, 1950. He was employed as a journeyman electrician thru IBEW # 364 and retired in 1989 from the Byron, IL Nuclear Plant . He was a member of Nativity of Mary Catholic Church.
Surviving are his wife, Barbara F. McCarville, his children, David (Pat) McCarville, of Belleville, WI, Marcia Topinka of Berwyn, IL, Julie McCarville and Cynthia McCarville both of LaCrosse, WI, Dorian (David) Lee of LaGrange Park, IL, Mary (John) Freeman of Beloit, Kevin McCarville of Janesville, Stacy (fiance, Ben) Garland of Beloit, seven grandchildren, three sisters, Joann McCarville of Chicago, IL, Jane Ricksecker of Beloit, Monica Partlow of Beloit, two brothers, Roger McCarville of Colorado, Patrick McCarville of Nevada, many nieces and nephews. He was preceded in death by his parents, Frank and Cecelia McCarville, a son, Keith McCarville, five brothers, Robert McCarville, Roland McCarville, Michael McCarville, David McCarville, Dennis McCarville , two sisters, Sheila Flynn and Barbara McCann.
A Mass of Christian Burial will be at 11 a.m. Wednesday, June 27, 2012 at Nativity of Mary Catholic Church, Janesville with Father Stephen Umhoefer presiding. Burial will be in Mt. Olivet Cemetery. Visitation will be at the Church from 10 to 11 a.m. Wednesday . Memorials may be made to ECHO, 65 South High Street, Janesville, WI 53548. The family is being assisted by Henke-Clarson Funeral Home. www.henkeclarson.com.