George Smith
August 15, 1923 - December 15, 2013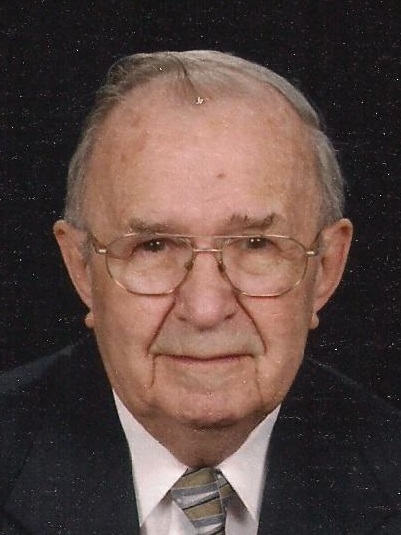 George Smith, 90, a longtime Janesville resident passed away on Sunday, December 15, 2013 with his loving daughters at his side at Milton Senior Living. George was born on August 15, 1923 in Viola, WI, the son of Asa and Alta (Wood) Smith. He graduated from Viola High School. George enlisted in the U. S. Navy and served during World War II. He married Grace Henthorn on October 25, 1948. They had two daughters, Donna and Diane. Over the years, George farmed, worked for Wisconsin Power and Light Company, Gibbs Manufacturing and retired from the Wisconsin School for the Visually Handicapped where he was a maintenance supervisor. George was a very active member of Roxbury Church of Christ where he served as a deacon and elder for several years, taught Sunday School and Youth Groups, did custodial work at the church for many years and housed many youth ministers, missionaries, kids on choir tours as well as friends in need of temporary housing. The family's home was always open when needed. George was a member of Kienow-Hilt V.F.W. Post # 1621 and the D.A.V. He loved to bowl and was on many bowling leagues up until the age of 88. He also loved to travel.
Surviving are his daughters, Donna (Bob) Ball and Diane (Terry) Casper all of Janesville, five grandchildren, Julane (Craig) Gibeaut, Shawn (Barb) Casper, Chad Casper, Nathan Ball (Carina) Karen Porter, seven great-grandchildren, Dylan Casper, Paige Norquay, Robert Farnham, Aaron Gibeaut, Lexus Martin, Kaylee Porter, Max Dominick as well as many nieces and nephews. His wife, Grace, preceded George in death on January 14, 2009. His parents, two brothers, Floyd Smith and Herman Smith and his sister, Iris Kohl also preceded him in death.
Funeral services will be at Roxbury Church of Christ, 2103 Roxbury Road, Janesville at 11 a.m. Thursday, December 19, 2013 with Pastor Jon Grice officiating. Entombment will be in Milton Lawns Memorial Park Mausoleum with military rites by Kienow-Hilt V. F. W. Post # 1621. Visitation hours are from 5 to 7 p.m. Wednesday, Dec. 18th at Henke-Clarson Funeral Home, 1010 N. Wright Rd., Janesville and at the Church on Thursday from 10 to 11 a.m. Memorials may be made to Agrace HospiceCare, Roxbury Church of Christ or Milton Senior Living in George's name.