Geraldine L."Jeri" Montgomery
October 26, 1924 -September 30, 2010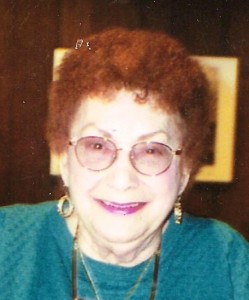 Geraldine L. "Jeri" Montgomery, 85, of Janesville passed away at Mercy Manor Transition Center on September 30, 2010 following a brief illness. She was born in La Crosse, WI on October 26, 1924, the daughter of Julius and Marie Prucha Raymond. She grew up in La Crosse graduating from high school there and later graduating from St. Francis Hospital School of Nursing in La Crosse. Jeri married Robert D. Montgomery on February 3, 1951. Mrs. Montgomery was employed for many years as a registered nurse for many years working at La Crosse Lutheran Hospital, in Chicago, IL and Santa Barbara, CA where she assisted in the delivery of several movie stars babies. During World War II, she was involved with the volunteer nurse corps. After moving to Janesville she was employed for a time at Mercy Hospital. Jeri enjoyed going to the casinos, her knick knacks, bowling, gardening, canning, and using metal detectors for fun and in tournaments. She had a love for animals, especially her three special cats, Paladin, Peske and Frosty.
Surviving are one sister, Virginia H. Page and one brother, Charles L. Raymond both of Janesville, many nieces and nephews. She was preceded in death by her husband, Robert in October of 2004. She was also preceded in death by one sister, Delores Horne, one brother, Robert Raymond who died while serving in the Korean War and one niece, Julie A. Tucker.
Services will be at 10 a. m. Saturday, October 9, 2010 at Mt. Olivet Cemetery Chapel followed by burial in Mt. Olivet Cemetery. In lieu of flowers, memorials may be made to the Rock County Humane Society. Assisting the family is Henke-Clarson Funeral Home, Janesville. www.henkeclarson.com.