H. Margaret Hanson
August 1, 1913-October 17, 2010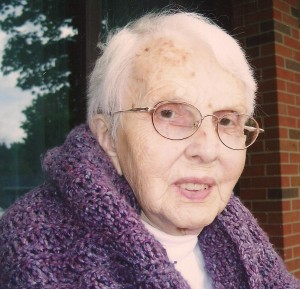 Evansville, WI/Galesville, WI
H. Margaret Hanson, 97, a long-time Galesville, WI resident went to Heaven on Sunday, October 17, 2010 at Evansville Manor where she had resided since 2007. She was born in Galesville on August 1, 1913, the daughter of William and Margaruette (Wohlers) Poss. She married Morris Hanson on December 9, 1931. He preceded her in death in 1990. Margaret was a long-time member of Hardies Creek Lutheran Church, rural Ettrick, WI. She was a gifted seamstress who made many quilts and braided rugs for her church and her family.
Survivors include her daughter, Rachael (James) Dowd of Janesville, three grandchildren, Becky (Chip) Wright of Janesville, RuthAnn (Warren) Yoerger of Evansville , WI, David (Candy) Dowd of Muskego, WI, nine great-grandchildren, Abby Wright, Tom (Angela) Wright, Tim (Bri) Wright, Craig Yoerger, Alex Yoerger, Emily Yoerger, Dalton Dowd, Colton Dowd, Anna Dowd; one brother, Marvin Baardseth, nieces and nephews. In addition to her husband and parents, she was preceded in death by two brothers, Earl Poss, William Poss and one sister, Hazel Hunter.
Services will be at 1:00 p.m. Saturday, October 23, 2010 at Hardies Creek Lutheran Church, rural Ettrick, WI with Rev. John Ashland officiating. Visitation will be from 4 to 6 p.m. Friday at Zwickey Funeral Home in Galesville, WI and at the Church on Saturday for one hour prior to the services. Burial will follow in Hardies Creek Lutheran Church Cemetery. Assisting the family are Zwickey Funeral Home, Galesville and Henke-Clarson Funeral Home, Janesville. www.henkeclarson.com.