Howard Leonard Bressler, Sr.
October 20, 1920 - July 18, 2012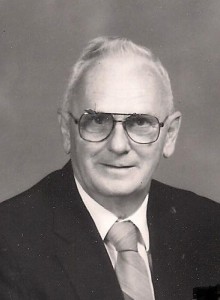 Howard Leonard Bressler, Sr. 91, of Janesville passed away Wednesday, July 18, 2012 at St. Mary's Janesville Hospital of congestive heart failure. He was born October 20, 1920 in Chemung Township, McHenry County, IL, the son of Gustav Bressler and Mary (Gors) Bressler. He attended Sharon schools and the Milwaukee School of Engineering. Howard married Helen Anclam on December 27, 1941 at the Emerald Grove Congregational Church. He had been a member of many organizations thru the years including the Parker Pen Credit Union, Local # 1266 International Machinist Union, the Fairfield Grange and championship drill team, First Congregational U.C.C., two bowling leagues, Parker Pen Golf League and Moose Lodge # 197 since 1978. Howard worked at Borg Equipment for several years and then for 18 years for Parker Pen Company from which he retired in 1982. He built several houses, had his brokers license and was an insurance salesman for American Family Insurance Company. He was a member of the Parker Pen Athletic Club and had earned his name on the Montor Cup Trophy. He enjoyed repairing cars for a hobby and was an avid golfer.
Howard is survived by two daughters, Sherry (Richard) Klossner, Denise (Steve) Essen, four grandchildren, Whitney (Mike Cioni) and Kyle Klossner, Seth and Alexia Essen, special friend, Lillian Hudson, nieces, nephews, other relatives and many, many friends. He was preceded in death by his wife, Helen, on November 27, 1999. Also preceding him in death are one son, Howard L. Bressler Jr., his parents, Gus and Mary Bressler and one brother, William Bressler.
Funeral services will be at 11 a.m. Tuesday, July 24, 2012 at Henke-Clarson Funeral Home, 1010 N. Wright Rd., Janesville with Rev. Wes Bixby officiating. Burial will be in Emerald Grove Cemetery. Visitation will be held from 5 to 7 p.m. Monday, July 23rd and from 10 a.m. Tuesday until the time of services at Henke-Clarson Funeral Home. www.henkeclarson.com.