Irene B. Bolden
January 13, 1915 - October 17, 2010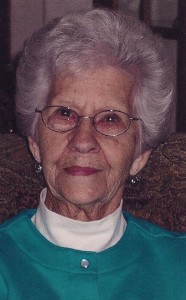 Irene Bernice Bolden, 95, of Janesville passed away at the home of her daughter on Sunday, October 17, 2010 surrounded by her loving family. Irene was born at New Auburn, WI on January 13, 1915, the daughter of William and Ona Hammon Markee. She married Arthur Nottestad on May 4, 1935 and later married Lyman Bolden on September 20, 1940. He died August 20, 2005. Irene and her husband farmed in the Sparta area until 1953. After moving to the Janesville area, she worked for a time at Milton College. She attended New Life Assembly of God when her health permitted.
Mrs. Bolden is survived by six children, Lynn Nottestad, Philip (Sherry) Bolden, Jeffrey (Barbara) Bolden, Jody (Jon) Schiel, Lynda (William) Schiel, Bradley Bolden, 24 grandchildren, 22 great-grandchildren, 9 great-great-grandchildren, two sisters-in-law, one brother-in-law, many nieces and nephews. She was preceded in death by her parents, her husband, one son, Arvin Nottestad, one step-son, Meade Bolden, three sisters, three brothers, four grandchildren and one great-grandchild.
A special thank you to Irene's care givers, Ellen and Linda and to her HospiceCare caregivers, Sonny and Barb, Nurse Beth, Chaplain Steve and social worker, Karen.
Services will be at 5 p.m. Sunday, October 23, 2010 at New Life Assembly of God, 2416 N. Wright Road, Janesville, with Pastor Todd Pope officiating. The family will meet friends from 4 p.m. Sunday until the time of services at the Church. Memorials may be made to HospiceCare, Inc., 3001 W. Memorial Drive, Janesville, WI 53548. Assisting the family is Henke-Clarson Funeral Home. www.henkeclarson.com.