James J. Schartner
July 29,1937 - November18,2010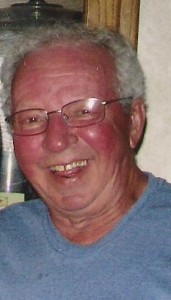 James J. Schartner, 73, of Janesville, WI passed away Thursday, November 18, 2010 of an apparent heart attack at his cabin near Sturgeon Bay, WI where he was getting ready for the deer hunting season. Jim was born on July 29, 1937 at Sturgeon Bay, the son of Adolph and Ella Mae (Walker) Schartner. He grew up in Door County and married Annie Berkhahn on March 3, 1962. Following their marriage, they moved to Janesville where Jim was employed by General Motors for 31 years. He was a member of St. Mary Catholic Church in Milton and U.A.W. Local # 95. Jim enjoyed fishing and hunting, especially deer hunting at his cabin in Door County. He loved gardening and was especially proud of the many raspberries he grew. Above all else, Jim's real joy in life was his family, especially when he could spend time and joke with his grandchildren.
James Schartner is survived by his beloved wife, Annie, his loving children, Carrie (Michael) Winnie of Janesville, Robin (Timothy) Annoye of Sturgeon Bay, Richard (Ronda) Schartner of Tampa, FL, his much loved grandchildren, Billy and Michael Winnie, Abby, Emily and Molly Annoye, Richie and Megan Schartner, his five brothers. Frank Schartner, Addie (Betty) Schartner, Ralph (Bonnie) Schartner, Darrell (Karen) Schartner , John (Susie ) Schartner all of Door County, WI, many nieces and nephews. He was preceded in death by his parents, and a sister-in-law, Dolores Schartner.
A Funeral Mass will be held at 1 p.m. Friday, November 26, at St. Mary Catholic Church in Milton with Monsignor James Uppena presiding. Visitation will be from 11 a.m. to 1 p.m. Friday at St. Mary Catholic Church. Private interment will be in St. Mary Cemetery, Milton. The family is being assisted by Henke-Clarson Funeral Home, Janesville. www.henkeclarson.com.