Jesse H. Scarborough
April 5 1928 - December 19, 2012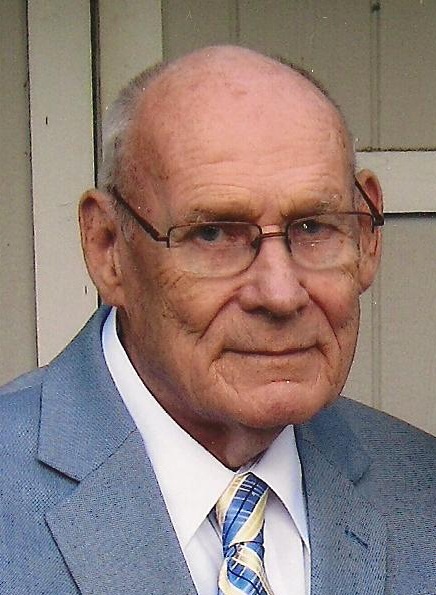 On December 19th, 2012, Jesse H. Scarborough went home to be with the Lord due to acute respiratory failure and sepsis. He was born in Ellenton, SC on April 5th, 1928, to Lexi Mae Estelle (Baughman) Scarborough and Benjamin Zechariah Scarborough. Jesse was raised from age 8 to 16 in the Methodist Home for Children, Macon, Georgia. He was always grateful to the "Home" for their care and direction during his formative years and he continued to support them through the years. Jesse married his lovely bride of 65 years, Virginia Mae (Krueger) on August 9th, 1947 in Janesville at Cargill Methodist Episcopal Church. Together they raised five children. Lee (Barbara) who was born on their 1st wedding anniversary, Robert (Laureen), Lynne (Rex Kolczynski), Barbara (William Sickler) and Mary (Kirk Deidrick). Jesse has 15 grandchildren, 11 great-grandchildren and two great-great-grandchildren. He also has two brothers, Reuben Scarborough of San Diego, CA, Everett Scarborough of Edgerton, WI, a sister-in-law, Audrey Matthews of Largo, FL, nieces, nephews and cousins. He was preceded in death by his parents, his sister, Sybil Butler and a grandson, Jesse Charles Scarborough.
Jesse proudly served with the United States Marine Corps from 1945 to 1949. Upon his return from service, he worked for the Janesville Post Office for 37 years before retiring in 1983. He was a charter member of Asbury United Methodist Church and a member of the Blackhawk Golden "K" Kiwanis Club.
"Jesse was a man of integrity, honesty and generosity. He will be missed by all who knew him."
Funeral services will be at 3 p.m. Sunday, December 23, 2012 at Asbury United Methodist Church, 1810 Kellogg Avenue, Janesville, with Pastor Wendee Nitz officiating. Visitation will be held at the church on Sunday from 1 to 3 p.m. The committal service with military rites by Kienow-Hilt V.F.W. Post # 1621 will be Monday, Dec. 24th at 1 p. m. at the Milton Lawns Memorial Park Chapel with entombment to follow in the Milton Lawns Mausoleum. In lieu of other expressions of sympathy, Memorials may be made in Jesse's name to the Methodist Home of Children, Macon GA. The family is being assisted by Henke-Clarson Funeral Home.