Joan (Burrows) Gunness
February 3, 1928 - March 22, 2014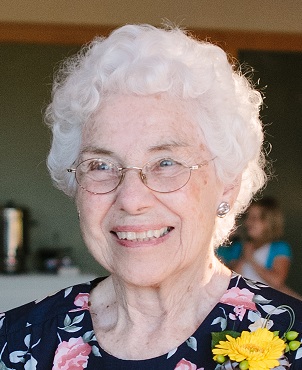 Joan (Burrows) Gunness, age 86, passed away on Saturday, March 22, 2014 at Huntington Place Advanced Care, surrounded by her family. Joan was born in Beloit, WI to Clarence and Mae (Wiegman) Burrows. She grew up in Newark Township and graduated from Beloit Memorial High School in 1945. Following graduation, Joan worked in the cost accounting department of Yates- American in Beloit for six years where she met the love of her life, Warren Gunness. Joan married Warren on October 14, 1951 at Second Congregational Church in Beloit. They moved to Janesville in 1952 where they lovingly raised three daughters. Joan worked with Warren at their family business, Gunness Advertising. She was an active member of First Lutheran Church in Janesville, where she taught Sunday School, and participated in Circle. She was a member of the Beckman Mill Society and volunteered at Rotary Gardens.
Joan will always be remembered for her beautiful smile and her deep love for her family and friends. She was described as the "sunshine after the rain" in her high school yearbook, an accurate life-long description. She loved getting together with family and friends and "visiting". She enjoyed gardening, bird-watching, music, baking and sewing. Joan organized wonderful camping trips, and passed on her love of nature and travel to her children and grandchildren. Joan and her husband Warren enjoyed many wonderful trips throughout the U.S. and to Norway and Germany.
She is survived by her husband, Warren; three daughters Karen Clark of Janesville, Elaine (Steve) Larson of Minneapolis, and Doreen Gunness of Irvine, CA; five grandchildren, Katie (Dave) Sieben, Kellan (Mackenzie) Clark, Courtney (Jeff Carroll) Larson, Hannah Larson and Owen Larson; two great-grandchildren, Tyler Mann and Cayden Clark; her brother, Wallace Burrows; brother-in-law, Wayne Gunness; sister-in-law, Doris Gunness and many nieces and nephews.
Preceding her in death are her parents, brother and sister-in-law John and June Burrows, sisters-in-law Norma Burrows and Ruth Gunness and brother-in-law Don Gunness.
A service celebrating Joan's life will be held at 11 am Friday, March 28, 2014 at First Lutheran Church, 602 N. Randall Avenue, Janesville. Visitation will be from 10 am until the time of services Friday. A luncheon will follow the service at the church. Memorials may be made to First Lutheran Church or the Alzheimer's Association. Henke-Clarson Funeral Home is assisting the family.