Joan D. Comstock
November 30, 1934 - August 4, 2012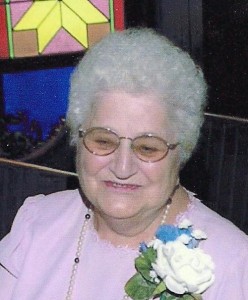 Joan D Comstock, 77, of Janesville, passed away on Saturday, August 4, 2012 at St. Mary's Hospital, Madison. Joan was born on November 30, 1934 in Cornell, WI, the daughter of Ralph and Anna May (Ottum) Warner. She married Brian O. Comstock on June 27, 1953. Joan was employed by J C Penney's. She was a member of the First Presbyterian Church, its Women of Faith and the VFW Auxiliary.
Surviving are her husband, Brian Comstock, four children, Cindy Visgar, Candy Comstock, Jim (Libbie) Comstock, Cathy Comstock (Barry Golden), all of Janesville, seven grandchildren, Jennifer Visgar (Ted Wenzel), Brianne (Charlie) Allbee, DeeDee Visgar, Justin (Katie) Bell, Ashley (Kevin) Isensee, Jared (Jenny Schindler) Comstock and Lucas (Nichole Hoops) Comstock, ten great-grandchildren, Samantha, Emily, Nicholas , Andrea, Zach, Sophie, Keegan, Rylee, Diahanna, Mallory, two sisters, Betty (Malcolm) Gilbertson, Jean Sesvold, one sister-in-law, Norma Warner and one brother-in-law, Vernon Newton.
She was preceded in death by her parents, two sisters, Becky Newton and Doris Svoboda and one brother, Ralph Warner.
Visitation will be held from 4 to 6 PM on Wednesday, August 8th at Henke- Clarson Funeral Home, 1010 N. Wright Rd., Janesville and on Thursday, August 9, 2012 at First Presbyterian Church, 17 N. Jackson St., Janesville from 10 to 11 AM. Funeral services will immediately follow with the Rev. Bruce A. Jones officiating. Interment will take place at a later date.