John Bernard Crank, Jr.
March 26, 1924 - March 24, 2015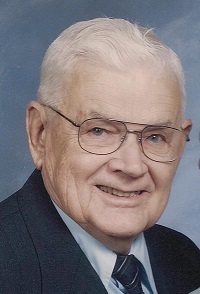 John Bernard Crank Jr., age 90, of Janesville died on Tuesday, March 24, 2015 at Mercy Hospital & Trauma Center. He was born in Eau Claire, WI on March 26, 1924, the son of John Bernard Crank Sr. and Karen O. (Nesja) Crank. He graduated from New Auburn High School in 1941. He entered the U. S. Army Air Corps on October 30, 1942 and served in the Asiatic Pacific Theater. He was discharged December 26, 1945. John married June E. Hemminger on April 23, 1949 in Holcombe, WI. He was formerly employed at National Presto Industries in Eau Claire. On July 20, 1959, he went to work for the Wisconsin Department of Transportation as a drivers license examiner and held that position until retiring on March 27, 1987. John was a Janesville resident since 1959 and was a member of Peace Evangelical Lutheran Church. He enjoyed photography, hunting and fishing.
John is survived by his wife of nearly 66 years, June, four children, Carol (Greg) Williams, Gary (Linda) Crank, Diana (John) McCumber, Kathie (Raymond) Taylor all of Janesville, eight grandchildren, 19 great-grandchildren, one brother, Kenneth (Pearl) Crank. He was preceded in death by one son, Milton Crank, his parents, three brothers and three sisters.
Funeral services will be at 11 a.m. Saturday, March 28, 2015 at Peace Evangelical Lutheran Church, 1550 South Osborne Avenue, Janesville. Rev. Richard Lehmann will officiate. Burial will be in the Town of Rock Cemetery. Visitations are from 4 to 6 p.m. Friday, March 27th at Henke-Clarson Funeral Home, Janesville and at the Church from 10:30 to 11 a.m. Saturday.