Joyce Elaine Gehrke
July 10, 1933 - May 2, 2017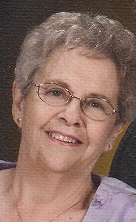 Joyce Elaine Gehrke, age 83, of Janesville died Tuesday, May 2, 2017 at Rock Haven Nursing Home. She was born on July 10, 1933 in Magnolia Township, Rock County, WI, the daughter of Orville and Velma (Updike) Crusan. She married Leonhard W. Gehrke on October 22, 1960. Joyce was employed in the medical field for many years, first working at the Wood VA Hospital in West Allis, later for Consultants in Pathology in Janesville and prior to retiring as a histology technologist at Beloit Memorial Hospital. She was a member of St. Paul's Evangelical Lutheran Church. Joyce was a former 4-H leader gardening leader. She enjoyed sewing, cooking, camping, fishing and spending time with her children, grandchildren and great-grandchildren.
Survivors include her husband, Leonhard Gehrke, two children, Jeffrey (Kathi) Gehrke of Janesville, Julie Marler of Fort Walton Beach, FL, four grandchildren, Ashley (Nick) Wehrwein, Alyssa Gehrke, Allison Gehrke, Tara Marler, two great-grandchildren, Bentley and Beckham Wehrwein, two sisters, Donna Oberholtzer and Janice (David) Hill, one brother, Darrel Crusan, two sisters-in-law, LaRue Pett and Judy Crusan as well as numerous nieces and nephews. In addition to her parents, Joyce was preceded in death by two brothers, Stanley and Lloyd Crusan.
Funeral services will be at 1 p.m. Tuesday, May 9, 2017 at St. Paul's Evangelical Lutheran Church with Rev. Daniel Decker officiating. Burial will be in Milton Lawns Memorial Park. Visitation will be at St. Paul's Evangelical Lutheran Church on Tuesday from Noon until 1 p.m. In lieu of flowers, memorials may be made to St. Paul's Lutheran Church and School. The family is being assisted by Henke-Clarson Funeral Home. (608-741-1713)
Deep gratitude to the staff of Rock Haven and Agrace HospiceCare, especially Linda Mickelson, for the loving care and compassion they gave to Joyce. She will be sorely missed by all those that knew her.