Joyce Emily Kleckner Duckert
August 26, 1919 - August 24, 2016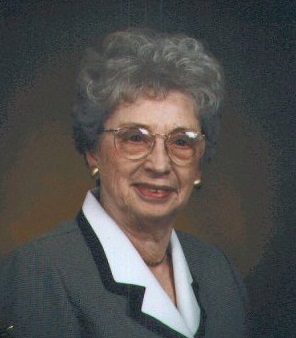 Joyce Emily Kleckner Duckert, age 96, of Janesville, died August 24, 2016. She was born August 26, 1919, in Neillsville, Wisconsin, the daughter of Alfred and Mary (Kass) Kleckner. She married 1st Lieutenant Robert F. Duckert on April 20, 1943 in Christ Presbyterian Church, Madison, Wisconsin.
Joyce graduated from Neillsville High School and received a Bachelor of Science degree with High Honors from the University of Wisconsin-Madison. She taught English and Speech at Central High School in Sheboygan, Wisconsin and at Wayland Academy, Beaver Dam, Wisconsin.
During her sons' childhood, she was active in their church activities and served as their den mother in the Cub Scout Program. She joined the staff of the Janesville Public Library in 1958, retiring as head of the Circulation Department in 1987. She was instrumental in establishing the Circulation Services Section of the Wisconsin Library Association of which she was a member. Joyce served on the board of the Janesville Chapter of the U.W. Alumni Association and was president of the Janesville Branch of the American Association of University Women. Appointed by Governor Warren P. Knowles, she served on the Wisconsin Advisory Council for Library Development and was a charter member of the Wisconsin Humanities Council and the Advisory Council for the University of Wisconsin Rock County. She was a member of the Rock Prairie United Presbyterian Church. She dearly loved her family and her friends.
Joyce is survived by her two sons, William (Jane) of Prairie du Sac, WI, and Thomas (Mary) of Germantown, TN.; 4 grandchildren, Elisabeth (Patrick) Wagener, Jon (Crystal) Duckert, Katherine Palmer, and Sarah (Scott) Bockhop; 7 great grandchildren, Aidan James Duckert, Georgia Rae Duckert, Vanessa Jane Palmer, Lillian Elisabeth Wagener, Greyson Thomas Wagener, Grant Patrick Wagener, and Silas William Bockhop; and a dear sister-in-law, Doris Kleckner, of Lancaster, WI, and nieces, Jayne (Richard Helmke) Kleckner, and Sandra (Denny) Drew. She was preceded in death by her husband, Robert F. Duckert, her parents, her brother, John Kass Kleckner, and niece, Wendy Kleckner.
The family will hold a private memorial service at a later date. The Henke-Clarson Funeral Home is assisting the family with arrangements. Memorials may be made to Rock Prairie Presbyterian Church or Cedar Crest.