Karen Sue Fawcett
December 18, 1945 -August 15, 2012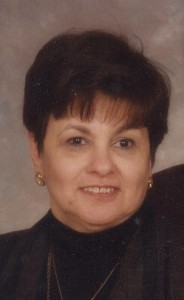 Karen Sue Fawcett, 66, of Janesville, WI passed away on Wednesday, August 15, 2012 at her home surrounded by her loving family. Karen was born in Janesville on December 18, 1945, the daughter of Wesley and Elizabeth (Diehls) Arndt. She graduated from Janesville Craig High School. Karen married Ronald E. Fawcett on September 26, 1964 in Superior, WI. Over the years, Karen was employed by Woodman's Supermarket in Beloit, the Goldie Floberg Children's Home in Rockton, IL and Aramark Food Service at McNeel School in Beloit. She moved back to Janesville from Beloit 4 years ago. Above all else, Karen's family and friends were the center of her life. She was a member of Mt. Calvary Lutheran Church.
Karen's family members include her husband, Ronald E.; J. Brett Fawcett of Beloit, Kimberly (Dave) Beighley of Orfordville, Jennifer (Steve) Heyerdahl of Beloit, Charlene (Chuck) Wilson of Beloit, grandchildren, Briana, Collin, Katlyn, Hillary, Tyler and "JJ", great-granddaughter, Kylie, sisters, Jean ( Roger) Krueger, Elizabeth " Betty" (Glenn) Anderson, brothers, Bill (Jan) Arndt and Ron (Barb) Arndt. In addition to her parents, she was preceded in death by a grandson, Ronald J. Fawcett and sisters, Beatrice Arndt and Dorothy (Kelly) Anderson.
"A special thanks to Agrace HospiceCare for the wonderful care given Karen and her family, especially the special gifts given to Kylie."
Visitation will be from 5 to 7 p.m. Monday, August, 20, 2012 at Henke-Clarson Funeral Home, 1010 N. Wright Rd. Janesville. Funeral services will be at 11 a.m. Tuesday, August 21st at Mt. Calvary Lutheran Church, 2940 Mineral Point Avenue, Janesville with Pastor Cory Rajek officiating. Burial will be in Oak Hill Cemetery. A memorial fund will be established in Karen's name. the family is being assisted by Henke-Clarson Funeral Home. www.henkeclarson.com.