Kenneth Curtis
November 23, 1934 - June 19, 2014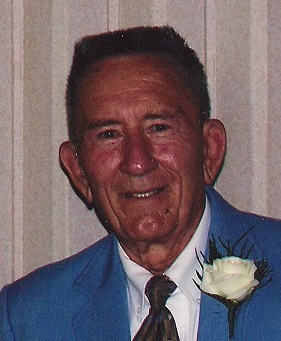 November 23,1934 – June 19,2014
Kenneth Curtis passed away surrounded by his loving family and into the waiting arms of the love of his life. He was born to William C. and Irma (Turner) Curtis in Janesville, WI. He graduated from Janesville High School in 1954. Ken was a veteran of the U.S. Air Force serving from 1954 to 1958. He married his high school sweetheart, Beth Conway, on June 29, 1957 at Cargill United Methodist Church. She predeceased him on August 27,2013. He was employed by the Rock County Sheriff's Department in 1958 as a deputy and became a sergeant in 1965. He was promoted to captain of the patrol division in 1967 and retired in 1990 as captain of the jail. He had a reputation of having a trunk full of treasures he found along the county roads he patrolled at night. Upon retirement, he was able to pursue his passion of gardening, composting and rain water collecting. This enabled him to supply neighbors, friends and family with the fruits and veggies of his labors – whether they wanted them or not!
Ken is survived by his loving, devoted daughters and their families: LuAnn (Tim) Luedtke of Orfordville and their sons Stephen (Jill) and Michael (Aviva and daughter Makayla); Sue Curtis (Mike Magnuson) of Appleton and her children Elliott and Lizzie; Tricia (Brian) Jones of Janesville and their children Matthew (friend Haley Elsberry) and Sarah. Ken was thrilled to become "GG Pa" when Makayla Elizabeth was born November 11, 2013. He is further survived by his sisters-in-law Joan Heise of Long Beach, CA and Barb Curtis of Janesville and his nephew and nieces, Bill (Gina) Curtis, Cathy (Tommy) Wright, Carol Woodstock and Colleen Curtis-Trappe (Bob Yaucher) and their families as well as many special friends and neighbors.
A celebration of Ken's life will be held at 10 a.m. Monday, June 23, 2014 at Cargill United Methodist Church, 2000 Wesley Avenue, Janesville with Rev. Forrest R. Wells officiating. Burial will be in Emerald Grove Cemetery with military rites by Kienow- Hilt V.F.W.Post # 1621. Friends may call on Sunday, June 22, 2014 from 3 to 6 p.m. at Henke-Clarson Funeral Home, 1010 N. Wright Rd., Janesville. In lieu of other expressions of sympathy, memorials would be appreciated to the Rock County Sheriff's Department Canine Unit.
LuAnn, Sue, Tricia and their families would like to thank their Dad's friends from the Sheriff's Department who have been so thoughtful since their Mom's death, his wonderful neighbors who have checked in on him, and the staff at Dean/St. Mary's Janesville who were caring and compassionate in these final days.
Memories are the flowers in the garden of life. Mom and Dad's love was a journey, starting at forever and ending at never. Dad, you're the duct tape, baling wire, nails and wood epoxy that held our family together … with a whole lot of love thrown in for good measure!