Kenneth Elmer Demrow
August 14, 1927 - January 12, 2012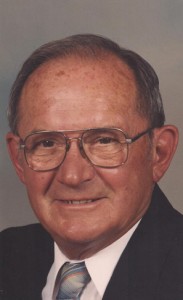 Kenneth Elmer Demrow, 84, Janesville Township resident passed away Thursday, January 12, 2012 at his home with his loving family at his side. He was born on August 14, 1927 in Center Township, Rock County, the son of Glen and Florence (Tripke) Demrow and was a graduate of Orfordville High School in 1944. He served in the U. S. Navy from 1945-1946. Kenneth married Katherine Russell on October 16, 1948 at First Lutheran Church in Janesville. He was employed by Parker Pen Company from 1944-1968. He worked for a short time for Skelly Markets in Milton, Elkhorn and Lake Geneva until becoming owner/operator of Olde Towne Inn and Squeeze Inn in Milton from 1970-1979.He was owner/operator (and later employee) of Riverside Cub Cadet from 1985 until retiring in 2003. Ken enjoyed sports, golf, bowling, playing cards and working in his yard. He was a member of the VFW and Hope Lutheran Church. He enjoyed his family and friends and he will be sadly missed.
He is survived by his wife, Katherine, two children, Steven (Tamara) Demrow of Edgerton, Sharon (Curtis Cleasby) Clark of Orfordville, his sisters, Shirley Johnson, Phyllis Eggen, Janet (Riley) Schloemer of Janesville; sister, Beverly (Carl) Johnson and brother, Glen (Irene) Demrow of Footville; grandchildren, Eric (Molly) Demrow, Shannon Demrow, Joshua Demrow, three great-grandchildren, Samantha, Ashley, Riley. Also many nieces, nephews, cousins and friends, as well as sisters-in-law, Carol Demrow of Brodhead, Virginia Benash of Milton, Dorothy (Ernest) Spry of Janesville , and brother-in-law, Donald (Mary) Russell of Janesville. In addition to his parents, he was preceded in death by his son, William Demrow and grandson, Brian Kohls, a brother, Richard Demrow and sister-in-law, Carolyn Adams.
Funeral services will be at 11 a.m. Monday, January 16, 2012 at Hope Lutheran Church in Milton. Burial will be in Milton Lawns Memorial Park with military rites conducted by Kienow-Hilt V.F.W. Post # 1621. Friends may call from 1 to 4 p.m. Sunday, Jan. 15th at Henke-Clarson Funeral Home, 1010 N. Wright Rd., Janesville and at the church on Monday from 10 to 11 a.m. www.henkeclarson.com.