LaVerne D. LeClair
March 24, 1921 - July 28, 2012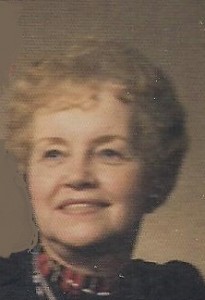 LaVerne D. LeClair, 91, of Janesville died Saturday, July 28, 2012 at Huntington Place Memory Care. She was born in Sturgeon Bay, WI on March 24, 1921, the daughter of Carl and Clara (Karnopp) Maggle. She married Gilbert P. LeClair on March 1946. Gilbert went to be with the Lord on November 27, 2005. LaVerne graduated from Sturgeon Bay High School in 1938 and worked for Leathern D. Smith Ship Building Company in Sturgeon Bay, Fairbanks Morse Company in Beloit and retired from the General Motors personnel department in 1980. She was a member of First Lutheran Church, its women's circles and Senior Citizens Group. LaVerne's family was the center of her life and she enjoyed home decorating, sewing, crafts, music and all of nature.
Survivors include two children, Mark (Elli) LeClair of Woodbury, MN, Barbara (Gary) Morris of Janesville, grandchildren, Matthew LeClair of Woodbury, MN, Bethany LeClair of Hampstead, NC, Megan Rhea of Janesville, and Leah (fiance -Dinos Kouyias) Rhea of Milwaukee, WI. Preceding her in death are her husband, parents, one sister, Verona (Leslie) Royce and one brother, Rolland Maggle.
"Mother you brought me up so lovingly, with so much thought and care and set a fine example that I am proud to follow. You did the things that counted for which I am thankful for today"
Funeral services will be held on Tuesday, July 31, 2012 at 1 p.m. at First Lutheran Church, 612 N. Randall Avenue, Janesville. Rev. James Melvin will officiate. Entombment will be in Milton Lawns Memorial Park Mausoleum. Visitation will be from 12 Noon to 1 p.m. Tuesday at First Lutheran Church. Memorials may be made to First Lutheran Church Capital Campaign Building Fund. The family is being assisted by Henke-Clarson Funeral Home. www.henkeclarson.com.