Laurna J. Smith
May 13, 1925 - February 4, 2012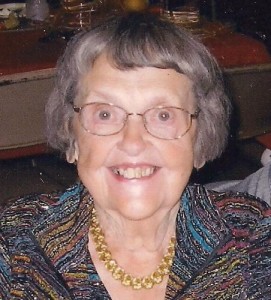 Laurna June Smith, 86, of Janesville passed away peacefully Saturday, February 4, 2012 at Edgerton Hospital with her family by her side. She was born in Rockford, IL on May 13, 1925, the daughter of Carl and Sigrid (Klaung) Olson. She graduated from Rockford East High School. Following graduation, she did office work in Rockford and at Fisher Body in Janesville. On October 19, 1957, Laurna married Gene M. Smith. Following their marriage, she was a homemaker as they raised their family. Later, she went to work at J.C. Penney's and retired from Bishop's Cafeteria. Laurna was a long-time member of Cargill United Methodist Church where she was active as a volunteer. She was also a very active volunteer with Head Start, ECHO, Rock Haven and R.S.V.P. As important as volunteering was to Laurna, her real joy came from her family, especially her children and her grandchildren whom she cherished dearly.
Surviving are her husband of over 54 years, Gene, 2 children, James C. Smith of Edgerton, Anita (Mark) Langer of Edgerton, 3 grandchildren, Mark (Amy) Langer, Randy (fiancee – Rachel Dunnum) Langer, Bruce Langer, 1 sister, Betty ( Jack) Mumma, many special nieces and nephews. In addition to her parents, she was preceded in death by 1 sister, Phyllis Olson, many brothers-in-law and sisters-in-law
The family would like to give special thanks to Edgerton Hospital for their compassionate care and to the Cargill Church membership committee for their many home visits .
Funeral services will be at 11:30 a.m. Thursday, February 9, 2012 at Cargill United Methodist Church, 2000 Wesley Avenue, Janesville. Rev. Forrest Wells will officiate. Entombment will be in Milton Lawns Memorial Park Mausoleum. Visitation will be from 10 to 11:30 a.m. Thursday at Cargill United Methodist Church. In lieu of other expressions of sympathy, memorials may be made to Edgerton Hospital, R.S.V.P., ECHO or Cargill Church. The family is being assisted by Henke-Clarson Funeral Home. www.henkeclarson.com.