Leonard Galbrecht
March 17, 1936 - October 8, 2017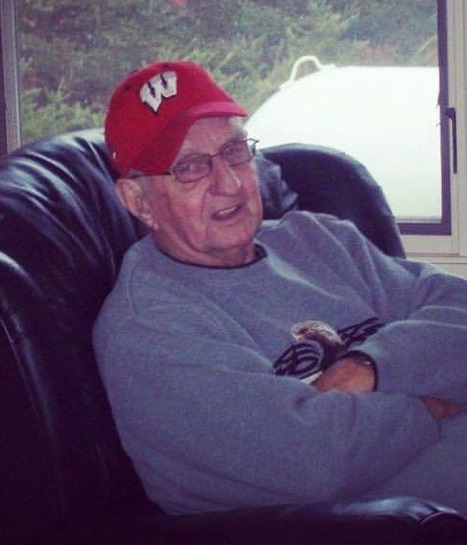 Leonard D. Galbrecht, age 81 , of Janesville died on Sunday, October 8, 2017 at his home. He was born at home in Janesville on March 17, 1936, the son of Arthur and Leah (Carlson) Galbrecht. He attended Janesville High School. He was employed by General Motors for 37 years. Leonard married Mary R. Rhodes on September 16, 1957 at the Little Brown Church in the Vale in Nashua, IA. Leonard lost Mary on November 4, 1982 following a brief illness. He later met Donna Yost whom he married on December 28, 1999 in Dubuque, IA.
Leonard is survived by his wife, Donna, 3 children, Bill (Cindy) Galbrecht of Grand Ledge, MI, Todd (Pam) Galbrecht of Wisconsin Dells, WI, Sarah (Scott) Miller of Brodhead, WI, 9 grandchildren, Brandon (Kim), Brianna, Matt Galbrecht, Amanda Agate, Bethanie (Theron) Dodd, Daniel Galbrecht, Heather (Matt) Dahle, Samantha and Seth Miller, 10 great-grandchildren, his sister, Beverly Schumacher, his former daughter-in-law Janette (Pat) Sill, many nieces, nephews and last but not least, Leonard and Donna's faithful dog, Teddy. Leonard was preceded in death by his parents, Arthur and Leah Galbrecht, brothers, Norm and George Galbrecht, sister, Ivadene Austin and his faithful dog, Devin.
A SPECIAL THANK YOU TO SCOTT BESAW, ROGER SCHWARTZ, LINDA TWERBERG, THE MERCY HOSPICE STAFF, ESPECIALLY BRITANY AND NICOLE, AND THE MERCY ONCOLOGY DEPARTMENT FOR ALL OF YOUR MANY KINDNESSES.
Services will be held at 11 a.m. Wednesday, October 11, 2017 at Faith Lutheran Church, 2116 Mineral Point Avenue, Janesville. Rev. Felix Malpica. There will be no visitation prior to the services but the family will greet friends following the service in the church fellowship hall to celebrate Leonard's life. Private burial will be in Milton Lawns Memorial Park. Henke-Clarson Funeral Home is assisting the family.