Leroy "Bud" Saxe
September 2, 1926- April 14, 2012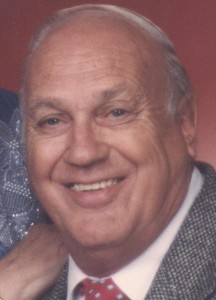 Leroy "Bud" Saxe. 85, of Janesville passed away with his loving family by his side on Saturday, April 14, 2012, at Mercy Hospital. Bud was born on September 2, 1926 in Janesville, the son of Ewald and Mabel ( Ross) Saxe. He graduated from Wausau High School in 1944. After graduation, he joined the U. s. Navy and served during World War II from 1944 to 1946. On September 13, 1947, he married Mildred "Milly" Vivian. He was employed by Durfee Roofing Company for many years prior to going to work at General Motors until he retired. Bud was a very special father, grandpa and great grandpa who has now rejoined the love of his life, Milly. He enjoyed gardening and the many animals he had throughout the years. He also enjoyed seeing all of his friends at the restaurant every week. He was a charter member of Faith Lutheran Church and a member of Kienow-Hilt V.F.W. Post # 1621.
Bud was blessed to have a great family which include his children, Wendy (George) Burris of Shullsburg, WI, David (Susan ) Saxe of Fort Wayne, IN, Mark (Mary) Saxe 0f Janesville, seven grandchildren, Tammy (Robert) Zimmerman, Melissa (Thomas ) Scalissi of Janesville, Joshua (Lisa) Saxe, Jonathan (Laura) Saxe, Andrew Saxe of Fort Wayne, IN, Laura (Mark) Brusberg of Edgerton, Brian (fiancee-Renee Burnside) Saxe of Kenosha, 11 great-grandchildren, Samantha and Maddie Scalissi, Brandon Chrobak, Nichole and Kaylee Zimmerman of Janesville, Skylar, Ellie, Ryley, Finn, Ayden and Tegan Saxe of Fort Wayne, IN, three sisters, Beverly (Fred) Zimmerman of Cary, IL, Delores (Howard) Peterson of Indianapolis, IN, Gail Amundson of Petaluma, CA, two sisters-in-law, Helen Slatter of Janesville, Betty (Ralph) Jersild of Indianapolis, IN and a brother-in-law, Dick Vivian of Madison, WI. His wife, Milly, preceded him in death on August 9, 2004. His parents also preceded him in death.
Bud's family would like to thank Dr Menet, Mercy Hospital, the wonderful staff on 2nd floor and the special care unit. We would also like to thank the special girls in the oncology department for all they have done for dad each week. His weekly visits were the highlight of his week seeing all of your smiles. You are the greatest.
BUD WILL BE SADLY MISSED BY HIS FAMILY AND FRIENDS.
Funeral services will be at 11 a.m. Wednesday, April 18, 2012 at Faith Lutheran Church,2116 Mineral Point Ave., Janesville. Pastor David Andert will officiate. Entombment will be in Milton Lawns Memorial Park Mausoleum with military rites by Kienow-Hilt V.F.W. Post # 1621. Visitation will be from 5 to 7 p.m. Tuesday, April 17th at Henke-Clarson Funeral Home, 1010 N. Wright Rd., Janesville and at the church from 10 to 11 a.m. Wednesday. www.henkeclarson.com.