Lienhard Gersmehl
July 17, 1913 - January 3, 2013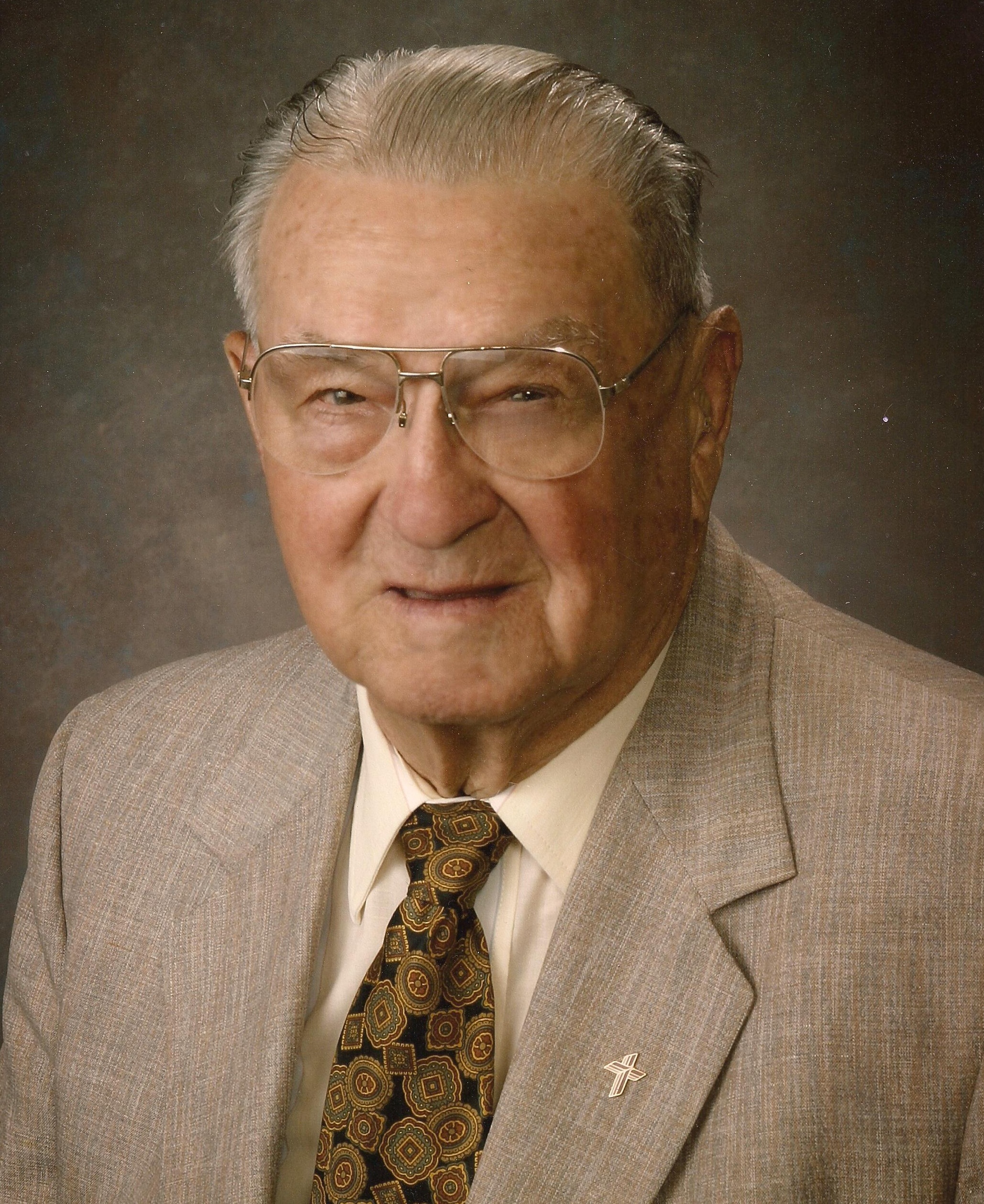 Lienhard W. Gersmehl died peacefully in the early morning hours of January 3rd, 2013 at Huntington Place in Janesville which was his comfortable home for the last two years.
"Len" was born in Winnipeg, Canada on July 17, 1913, the son of C.F. Otto and Pauline Richter Gersmehl, and grew up in Mayville, Wisconsin. After graduating from Concordia College in River Forest, Illinois, Len faced a crossroads of whether to accept a draft by a professional baseball team, or become a teacher. His strong faith and dedication to the church prevailed, and Len started his career in teaching. He first taught at Manawa, WI, for one year and then came to Janesville, WI, where he taught for 44 years at St. Paul's Lutheran School. It was not unusual by the time he retired in 1979 for him to have had 3 generations of one family as students.
A member of St. Paul's Lutheran Church, Len also served as church organist, playing for church services, weddings and funerals. He was a gifted pianist and musician, directing the St. Paul's choir for over 40 years. But he continually made time for the sports that he excelled in throughout his life. There are many Janesville residents that still only know Len as "Coach". Among his teams and coaching accomplishments were the St. Paul's basketball teams, the championship Little League Indians team, Janesville Jems women's softball team and St. Paul's Field and Track….
As recognition of Len's dedication and coaching abilities, he was inducted into the Janesville Sports Hall of Fame in 1993. And then in retirement, to stay involved this time as spectator, Len worked for Per-Mar Security at University of Wisconsin-Madison sporting events for 25+ years!
Len is preceded in death by his first wife and mother of his six children, Ruth Anna Pusch, who died in 1963. He is also preceded in death by his second wife, Dorothy Nicolaus, one child, Carol Sue Traynor, a son-in-law, Herbert Oliveira, and his brothers, Herold and Ronald.
He is survived by five children, Anna Beth (Betsy) Oliveira of Gold Canyon, Arizona, Christine Gersmehl of Milton, Wisconsin, David (Helen) Gersmehl of Marietta, Georgia, Jon Gersmehl of Hamburg, Germany, and Marjorie (Maggie) Vale (Clark Poston), seven grandchildren and ten great-grandchildren.
The family thanks Agrace Hospice for their care and attention to Len in his last days.
Len is also survived by his fiancé, Carol Turner, who gave untold love and companionship to Len in his last years. We, the family, will be ever grateful to Carol for the joy and comfort she infinitely showed Dad which made his life gloriously happy and his passing peaceful. Len will always be remembered as a man of generosity with his time, his devout wisdom and his love. Peace to all.
Visitation will be Sunday, Jan 6th, 2-4 pm. at Henke Clarson Funeral Home, 1010 N. Wright Rd., Janesville. Funeral service will be at St. Paul's Lutheran Church, 210 S. Ringold St., Janesville on Monday, Jan 7th, at 12:30 p.m. Pastor Daniel Decker and Pastor James Hendrikson will officiate. Burial will be in Oak Hill Cemetery. In lieu of flowers, memorials may be made to St. Paul's Missions or Agrace HospiceCare.