Lillian "Lee" A. Myers
February 11, 1934 - August 23, 2012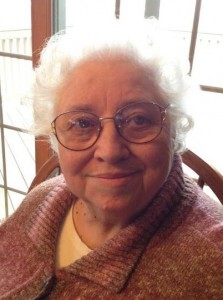 Lillian "Lee" A. Myers, 78, Janesville, died Thursday, August 23, 2012, at Agrace HospiceCare in Fitchburg, Wisconsin after a courageous battle with cancer. She was born at home in Eldorado, Wisconsin on February 11, 1934, the daughter of William and Anne Burns. She attended high school in Camelsport, Wisconsin.
She married Eugene (Gene) R. Myers on June 5, 1953 in Fond du Lac, Wisconsin. She was a loving, devoted, affirming stay-at-home mother to 6 children. She also served as secretary to her husband's tree service business for 20 years. After her children were grown, she was the receptionist for her church, New Life Assembly of God of Janesville, Wisconsin, for 3 years, of which she was a member for the last 44 years. Lee gave many hours volunteering for her beloved church. She taught Sunday school, served on the missions committee, was part of the women's group, headed the prayer chain, directed funeral/surgery meal ministries and helped with the food pantry. In addition, she co-directed Restore – a Christ-based 12-step program – for 12 years. She also wrote a manual for the program. As a result of her dedication to this program, she was called "mom" by many people in and out of the church and was even called "New Life Mom." She was a dedicated prayer warrior who was willing to listen at any hour of the day or night. Lee considered Jesus her closest friend and read through His Word every year for the past 53 years. One of her favorite passages is Psalms 27. She enjoyed reading and looked forward to surrounding her house with flowers each summer. Lee was a kind, gentle-spirited woman of God who spent many hours on her knees in prayer. Her prayers and loving heart will be missed by her family, friends and church family, whom she prayed for daily.
Lee is survived by her husband of 59 years, Gene; her children: Rev. Dennis (Nancy) of Fennville, MI; Rev. William (Bill) (Jennifer) of Williams Bay, Wisconsin; Douglas (Lillian) of Chesterfield, MI; Jeff (Olga) of Janesville; Mike (Linda) of Rockford, IL; and Kath Magee (Matt) of Janesville. She is also survived by 30 grandchildren; 16 great-grand children and one due in November; 2 sisters, Alice (Jim) Erdman and Janie West; 1 brother, Jim Burns; nieces and nephews; and special "Friday Night Date" friends Keith and Marge Overturf.
She is preceded in death by her parents and one grandson, Chris (Lindsay) Rogers.
Her family would like to thank Dr. Shekhani of Mercy Hospital and the caring staff of Agrace HospiceCare, with a special thanks to her hospice nurses Heidi and Deedee, who were always so gentle and compassionate.
Funeral services will be held on Tuesday, August 28, 2012, at 11 a.m. at NEW LIFE ASSEMBLY OF GOD, 2416 N. Wright Rd., Janesville, Wisconsin with Rev. Michael Jackson and Rev. Todd Pope officiating. Visitation will be held on Monday, August 27, 2012 at the church from 5 p.m. to 7 p.m. Memorials may be made in Lee's name to New Life Assembly of God. Henke-Clarson funeral home, Janesville, is assisting the family.