Lois Malone Hough
January 25, 1921 - August 3, 2014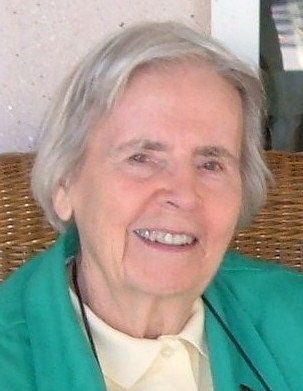 Lois Malone Hough, Janesville (1921 – 2014)
January 25, 1921 – August 3, 2014
Lois Malone Hough, 93, of Janesville, died Sunday. She was born in Meridian, Mississippi, the daughter of William B. and Ada (Goldsmith) Malone. The family moved soon thereafter to Jefferson City, MO. Lois graduated from Beloit College in 1942, and it was there that she met Albert Roe Hough, whom she married in 1943. A geology major, Lois worked as a cartographer and volunteered as an ambulance driver during World War II.
While raising her family, Lois was the chief organizer of the family's many camping trips in the US and Europe. She was active in community organizations, including member and leadership roles in PEO, AAUW, AFS (student exchange program) and the First Congregational Church as well as leading Brownie and Girl Scout troops. In 1979 she and Albert founded the Wisconsin Wagon Company, a small manufacturer of handcrafted coaster wagons and other wooden toys. After bending metal and silk-screening logos for 22 years, she and Al retired at age 80. In retirement, Lois continued to enjoy traveling widely, singing with the Choristers senior choir, and keeping fit at "Silver Sneakers" classes.
Lois was predeceased by her husband, Albert, her parents and her siblings. Survivors include her four children: Dr. Jane H. Ferguson of Red Hook, NY, Barbara Hough (Robert Lind) of Dorchester, MA, Nancy Hough of Wilmington, DE, and David M. Hough of Dorchester, MA; two grandchildren, Hallam Ferguson (Laura) of Washington, DC and Dr. Gillian Ferguson of Red Hook, NY; many nieces and nephews; and three AFS exchange students: Martine Leconte of Paris, France, Wachuree (Jarun) Ngenkaew and their daughter Warangkhana of Chachengsao, Thailand, and Mohammed (Jamila) Foukara and their sons, Yassine and Saad of Rabat, Morocco.
Services will be held at 11:00 a.m. on Saturday, August 23 at the First Congregational Church, 54 S. Jackson St., Janesville. Friends may visit with the family for one hour prior to the service at the church that day. In lieu of other expressions of sympathy, memorials may be made to First Congregational Church; The Albert R. and Lois M. Hough Scholarship at Beloit College, c/o Development Office, 700 College Street, Beloit, WI 53511 or the charity of your choice. Assisting the family is Henke-Clarson Funeral Home (608) 741-1713.