Lois S. Griffin
February 10, 1921 - January 27, 2017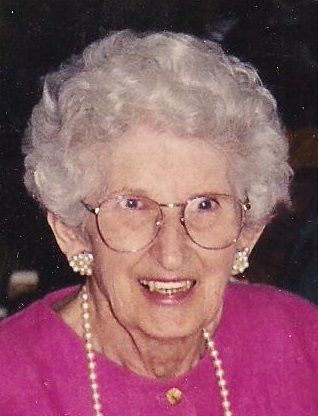 Lois S Griffin of Janesville, WI passed away peacefully on the morning of January 27, 2017 at Huntington Place, her home of the previous nine years.
Lois was born in Chicago, IL in the home of an aunt, on February 10, 1921 to Fred and Agnes Schwandt of Gary, IN. After attending high school in Gary, she graduated with a BA degree from Purdue University where she majored in Institution Management. Lois married the love of her life, Gordon S Griffin Jr, in January of 1943. Gordon passed away prematurely in March of 1954 in Racine, WI.
Having two daughters to raise, Lois returned to school, completing her master's degree from the University of Wisconsin – Madison. She joined the Janesville Public School system where she taught for 28 years at Marshall Jr High. Although the subject she taught was Home Economics, she visualized it as a Life Skills course which helped to prepare her students for appreciating beauty in life. During her teaching career, she became department head, as well as managing the school cafeteria for several years.
Lois was a member and served as a reader in the First Church of Christ Scientists, Janeville. She was also a member of the Janesville Women's Club and AAUW. Throughout her life she retained an unwavering faith in God and love of her family and friends. She thoroughly enjoyed her students, and became a prolific painter in retirement, sharing her pictures with many friends and loved ones.
Lois is survived by her daughter and son-in-law, Patricia and Gerald Hoffman, of Traverse City, MI and Naples, FL as well as four grandchildren, Mark Hoffman of Grosse Pointe Park, MI, Jaime Hoffman of St. Paul, MN, Kristin Meyer Carey of Jenkintown, PA and Tracy Meyer of Chicago, IL and two great-grandchildren, Maddy & Mason. She was preceded in death by her husband, Gordon Griffin, her sister, Lucille Ehinger, her daughter Susan G Meyer and son-in-law, Keith Meyer.
Memorial services will be held at Henke-Clarson Funeral Home in Janesville on June 17, 2017 at 1:00 pm.
Internment was at Graceland Cemetery in Racine, WI where she was laid to rest next to her beloved husband. Lois's family wishes to thank Heartland Hospice Care and their volunteers along with the staff of Huntington Place for their exceptional care of Lois.