Lorie Ann Hanson
February 22, 1965 - January 17, 2018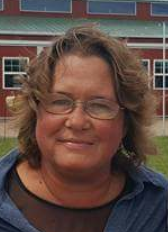 Lorie Ann Hanson, age 52, of Janesville, passed away unexpectedly in her home on Wednesday, January 17, 2018. Lorie was born in Janesville, WI, on February 22, 1965 the daughter of Shirley and Kenneth Kleven. She went to Craig High School in Janesville, and had been previously employed by Seneca foods, and Monterey Mills. Lorie married the love of her life, Donald Hanson Jr., on October 9th, 1987. Lorie had a warm heart and a passion for helping others in need. She loved her country music, especially Kenny Rodgers; and being out on her pontoon boat with her husband and grandkids. Lorie's dogs, Bella and Ty, were her pride and joy. You couldn't get Lorie, without one of the dogs tagging along too. Her love for the water, her dogs, and her family will be forever missed.
Lorie is survived by her husband, Donald Hanson Jr., of Janesville; three sons, Travis Hanson, Jon (Alex) Hanson, and Brandon (Alycia Stimpfl) Hanson; grandchildren: Dayton, Skylar, Rhya, Kayden, Roger, Aric, Luke, Addyson, Anna, and Jayden. One brother: Randy (Linda) Kleven of Janesville; she is further survived by her father and mother in law; Donald and Judy Hanson; brother in law, Greg (Lynda) Hanson and sister in laws; Vicky (Steve) Sathre and Nicole (Mike) Powers; and aunts, uncles, nieces, nephews, and cousins. She is preceded in death by her parents and her beloved daughter, Rachel Hanson.
A celebration of Lorie's life will be held from Noon to 2:00 p.m. Sunday, January 21,
2018 at Henke-Clarson Funeral Home, 1010 North Wright Road, Janesville.