Louise C. Krause
December 27, 1928 - April 10, 2016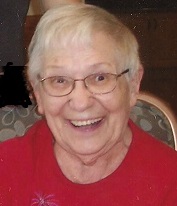 Louise C. Krause, 87, of Janesville died Sunday, April 10, 2016 at Cedar Crest Health Center. She was born on December 27, 1928 in Moliter, WI, the daughter of Joseph and Anna (Sickinger) Fuerlinger. Louise married Donald H. Krause on April 7, 1945 in Merrill, WI. He preceded her in death on March 11, 1999. Louise was formerly employed by Scot's Department Store, Janesville Apparel and Norwood Mills but her favorite job was babysitting for her grandchildren. Louise had been a Girl Scout Leader. She enjoyed gardening, sewing, cooking, singing spending time at the family trailer up north but her favorite enjoyment was being with her family, especially her grandchildren.
Surviving are her daughter, Diann Miller of Janesville, grandchildren, Rhonda (John) Dahl and Michelle Fitzgerald both of Janesville, Deanna Krause of Jacksonville, FL, James Krause of Boscawen, NH, great-grandchildren Sam and Alex Dahl, Amanda (Josh) Nelson, Joseph Bowden, Diane Krause, Mike Krause, three great-great-grandchildren, one brother, Joe (Marlene) Fuerlinger, two sisters, Angeline Homer and Frances Berkhahn as well as many nieces and nephews. In addition to her husband and parents, she was preceded in death by four children, Donald J. Krause, Susan Hedrington, Sandra Krause, Judith Krause, one brother, John Fuerlinger and one sister, Anna Iwen.
Louise's family wishes to thank both the staff of Cedar Crest and Agrace HospiceCare for the wonderful care she was given.
Funeral services will be at 1 p.m. Friday, April 15, 2016 at Henke-Clarson Funeral Home, 1010 N. Wright Rd, Janesville. Private entombment will be in Milton Lawns Mausoleum.
Visitation will be Friday from 11 a.m. until 1 p.m. at Henke-Clarson Funeral Home.