Lucy P. Langbecker
December 6, 1918 - October 27, 2016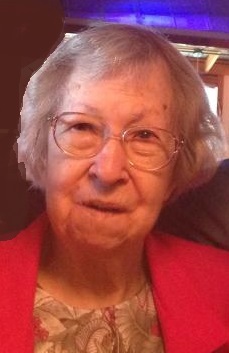 Lucy P. Langbecker, 97, of Janesville, WI was welcomed into the kingdom of Heaven on Thursday, October 27, 2016. Lucy was born at Yorktown, WI on December 6, 1918, the eldest daughter of Erwin and Mathilde (Bartelt) Arquette. Her father grew up in the timber industry in northern Wisconsin before meeting and marrying Mathilde from Milwaukee. They raised their 5 children to believe in God and work hard. Lucy was the oldest of four siblings, June, Jean, Charlotte, and Harry. She graduated from McKinley High School in Marshfield, WI. She met Walter G. Langbecker and had their first date over a bowl of chili; they were married on September 24, 1938 in Milwaukee, WI. They had four boys Wayne, Gary, Lee, and Jacques and raised them in Fort Atkinson, WI. Mrs. Langbecker was formerly employed by Thomas Industries and in child care services. Lucy was a life-long Lutheran and loved singing in the choir at her home church, St. Matthew's Evangelical Lutheran Church. She learned to play piano when she was in her late 60′ s and enjoyed playing while Walter sang. Lucy was one to never pass up a jelly-filled donut or chocolate, enjoyed flowers & plants, visiting with people and birds. Her smile, quick wit and dry humor will be greatly missed. Walter joined his heavenly father January 24, 2013.
Her memories will be cherished by: her three sons, Wayne Langbecker of Arnold, MO, Gary Langbecker (Paulette) of McComb, MS, and Lee Langbecker of Delavan, WI; three sisters: June Schuette of Janesville, WI, Jean Schultz of Eau Claire, WI, Charlotte Sandusky of Albion, MI; 15 grandchildren, 19 great-grandchildren, and 15 great-great grandchildren. She was preceded by her parents, Erwin and Mathilde Arquette; her husband, Walter Langbecker (January 24, 2013); her brother, Harry Arquette (May 18, 2016); her son, Jacques Langbecker (October 24, 2013); and her grandson, Brett Langbecker (September 9, 2011).
Funeral services at St. Matthew's Evangelical Lutheran Church, 709 Milton Avenue, Janesville at 11 a.m. Saturday, October 29, 2016 with Pastor James Janke officiating. Visitation is 10 to 11 a.m. Saturday at the Church. Entombment will be at Milton Lawns Memorial Park Mausoleum with Henke-Clarson Funeral Home assisting the family with the arrangements.