Lyle W. Schleifer
May 3, 1923 - August 12, 2012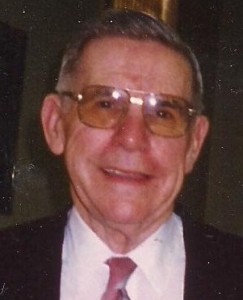 Lyle Wilfred Schleifer, 89, of Janesville passed away Sunday, August 12, 2012 at St. Mary's Janesville Hospital. Lyle was born on May 3, 1923 in Cataract, Monroe County, WI, the son of Ernest Ray Schleifer and Katherine (Bottjer) Schleifer. He attended Burr Oak Lutheran Church school in Monroe County. He joined the U. S. Marine Corp. during World War II and served in the South Pacific. In 1949, he married Nyra Holley. He later married Sylvia Sperry on August 12, 1989 at Peace Lutheran Church, Janesville. Lyle was employed by General Motors for 30 years retiring from there in 1988. He was also a realtor operating Schleifer Realty for many years. He was a member of St. Paul's Evangelical Lutheran Church and its Adult Fellowship Club, member of the Janesville Senior Center and a life member of Kienow-Hilt V.F.W. Post # 1621. As a realtor and Fair Housing Equal Opportunity Chairman, he helped set up the original Community Housing Resources Board for HUD, a combination that won State and Regional awards for the Janesville board.
Surviving are his wife, Sylvia Schleifer; three children; son, Mike Schleifer and his children, Brian Schleifer and Melissa Wagner; son, Steve Schleifer; daughter, Mary Schleifer and her son, Brad Engebretson; a granddaughter from a deceased son, (Bruce Schleifer), Sheena Van Wagner, three stepdaughters; Sharmian (Bob) Jessie and their children, Todd (Tricia) Jessie, Brooke Jessie, Laurie (Jeremy) Timm; Marcia (Jim) Kersten and their children, Mindy (Matt) Riggio and Amber Kersten; Melanie (John) Ross and their children, Brian (Allie) Ross, LeAnn (Dan) Bertagnoli and Karen Ross, 20 great-grandchildren, three sisters, Violet Sterling, Deloris Nicholson, Sharon Waldenberger and one brother, Robert (Jo Ann) Schleifer, nieces and nephews. In addition to his parents and his son, Bruce Schleifer, he was preceded in death by a granddaughter, Sarah Beth Jessie, a great-grandson, Caleb Bertagnoli, two brothers, Raymond and Ellsworth and one sister, Margaret Harnisch.
Visitation will be held on Wednesday, August 15, 2012 at St. Paul's Evangelical Lutheran Church, 210 South Ringold Street, Janesville from 10:30 a.m. until 12 Noon
with funeral services to follow at 12 Noon Wednesday. Pastor Dan Decker will officiate. Entombment will be in Milton Lawns Memorial Park Mausoleum with full military rites by Kienow-Hilt V. F. W. Post # 1621. Memorials may be made to St. Paul's Church "Tuition Fund". The family is being assisted by Henke-Clarson Funeral Home. www.henkeclarson.com.