Lynn G. Hinze
October 9, 1933 - October 20, 2010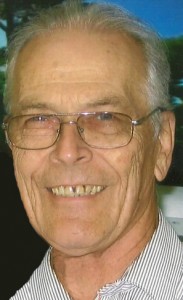 Lynn G. Hinze, 77, of Janesville, WI passed away at his home on Wednesday, October 20, 2010 surrounded by his family following a valiant battle with cancer and the complications of a stroke. Lynn was born on October 9, 1933 in Denver, CO, the son of William and Mildred Howard Hinze. He graduated from Orange City, Iowa High School and attended Northwestern Iowa University. He entered the U. S. Air Force on February 1, 1953 and served until January 2, 1957. He was stationed in Canada with the 755th AC&WRON in radar ground control of flyers during the Korean War. He married Shirley Cohoon on December 31, 1968. Lynn was employed as a machinist and tool & die maker and was a real estate broker for 51 years. He had a passion for buying and developing wooded properties "up north." He retired from Shorewest Realty. As a devoted family man, Lynn's main interest was spending time with his wife, children and grandchildren enjoying outdoor activities such as hunting, boating, fishing, camping and skiing – just having fun.
Surviving are his wife Shirley, ten children, Jeff (Sue) Hinze, Brad Hinze, Brett Hinze, Todd Hinze, Lynnette (Eric) Wirth, Penny Anderson, Rick Walkey, Stuart (Pam) Walkey, Shawna (Remy) Konitzer, Fred (Elvira) Walkey, 14 grandchildren, three great-grandchildren and one sister, Carol (Don) Brantley and his German Shepard, Lady. He was preceded in death by his parents and a daughter-in-law, Susie Hinze.
Funeral services will be at 2 p.m. Sunday, October 24, 2010 at Henke-Clarson Funeral Home, 1010 N. Wright Rd., Janesville with Rev. Steve Dean officiating. Visitation will be from 1 to 2 p.m. Sunday at the funeral home. Military rites will be conducted by Kienow-Hilt V.F.W. Post # 1621. Entombment will be in Milton Lawns Mausoleum. Assisting the family is Henke-Clarson Funeral Home. www.henkeclarson.com.