Margaret M. McCoy
April 25, 1925 - January 5, 2015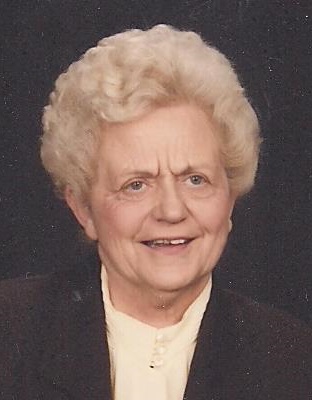 Margaret M. McCoy, age 89, of Janesville, WI died peacefully in her sleep on Monday, January 5, 2015 at St. Elizabeth Home. She was born on April 25,1925 in Reedsburg, WI, to Fred and Marguerite (Diener) Wacholtz, the second of eight children. She graduated from Reedsburg High School and attended Edgewood College for three years, completing her degree in elementary education at UW- Platteville. Margaret married Robert A. Gile on September 17, 1946. They were blessed with five children. Together they owned and operated the Shullsburg Meat and Locker Plant until Robert's death in 1959. She married Delbert T. McCoy on November 10, 1961. They lived in Shullsburg for the next 10 years and Margaret taught at St. Matthew's Parochial School until it closed in 1968. She then taught at Shullsburg Public Schools until 1971, when the family moved to Janesville. Margaret taught at St. Patrick's Parochial School until 1977, when she was appointed Religious Coordinator for the Parish. She was a member of St. Patrick's Parish Counsel, the Adult Education Board, the Flame Program Board and the Catholic Special Religion Education Board. She developed many programs for the students and a special program for the handicapped and visually impaired Catholic students at W.S.V.H. She received a Certificate of Appreciation from Bishop Cletus O'Donnell for recognition of her dedicated and valuable service to Catholic Education. She retired in 1988 and enjoyed working in her yard, playing bingo, visiting with family and friends, and watching Cubs and Packer games.
She was preceded in death by her parents; husbands, Robert and Delbert (2005); her brother, Fred Wacholtz Jr; and her son, Donald Gile. She is survived by her children, Jane (Jeff) Furst, Joan Bailey (Steve Powell), Robert J. Gile, Mary Christine (Jeff) Johnson, and daughter-in-law, Jill Gile; eight grandchildren; eleven great-grandchildren; five sisters; one brother and two sisters-in-law.
A funeral Mass of Christian Burial will be held at 11:00 a.m. Monday, January 12, 2015 at St. John Vianney Roman Catholic Church, 1245 Clark Street, Janesville, WI , with Father Tom Marr officiating. Visitation will be at the church Monday from 9:30 a.m. until the time of service. A luncheon will be served at the church immediately following the service. A private burial will be held at a later date at St. Matthew's Cemetery in Shullsburg, WI. Henke-Clarson Funeral Home is assisting the family.
The family would like to thank the staff of St. Elizabeth Home and Mercy Hospice for the wonderful care they provided.