Margaret Victoria Mead
June 23, 1921 - June 4, 2016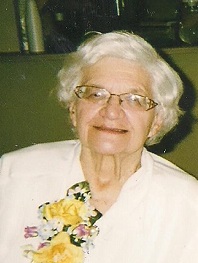 Margaret Victoria Mead, age 94, of Janesville passed away on June 4, 2016 at Cedar Crest, Janesville, WI. Margaret was born in St. Charles, MN on June 23, 1921, the daughter of Steven Perry and Clara (Sauer) Sanders. She graduated in 1939 from Janesville High School. On July 11, 1942, Margaret married Richard Jerry Mead of Richland Center, WI at St. Mary's Catholic Church in Janesville. She became a member of St. Patrick's Catholic Church and since 1966 has been a member of St. John Vianney Roman Catholic Church where she was a member of the choir for many years. She was active as a girl scout leader and den mother; member of Sweet Adelines and sang with the Janesville Senior Center Choristers. She enjoyed fishing and camping with family at Hayward, WI. She and Richard enjoyed making Florida their home in the winters with many visits from family. Margaret was a very faithful person whose favorite Bible verse was Psalm 23.
She was the sole survivor of four sisters and four brothers.
Margaret is survived by her husband of 74 years, Richard; her sons, Jerry (Barb) Mead, Michael (Linda) Mead, James (Dorothiann) Mead, her daughter Barbara (Lee) Scarborough, much loved grandchildren, Eric, Karl and Richard; Jennifer and Amanda; Sandra, Brian and David; Julie and eight great grandchildren; three great-great grandchildren.
A funeral mass will be held at 11 a.m. Monday, June 13, 2016 at St. John Vianney Roman Catholic Church with Fr. Thomas Marr presiding. The family will meet friends from 1:30 to 3 p.m. Sunday, June 12th in the main lounge room of the Cedar Crest Apartments, 1700 South River Road, Janesville. In lieu of other expressions of sympathy, memorials may be made to the Janesville Senior Center Choristers. The Mead family is being assisted by Henke-Clarson Funeral Home.