Margarethe "Mal" H. Powell
February 1, 1925 - September 4, 2012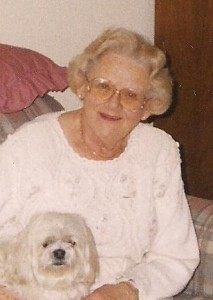 Margarethe " Mal" H. Powell, 87, of Janesville died Tuesday, September 4, 2012 at Cedar Crest where she resided the past few years. Margarethe was born in Heidleberg, Germany on February 1, 1925, the daughter of Friedrich and Hilda (Gebhard) Kille. She attended high school and college in Freiburg, Germany. She came to Janesville from Germany on September 4, 1960 and married John E. Powell on September 17, 1960. He preceded her in death September 23, 2003. Margarethe was formerly employed as a clerk by Reliable Pharmacy in Janesville. Margarethe loved to play the piano and entertain her friends. She enjoyed cooking, knitting, crocheting and singing. She was known to knit slippers and booty's for all of her friends and their grandchildren. "Mal" had a deep love for all animals.
Surviving are nieces, nephews, great nieces, great nephews, including Carin Girrbach, Wolfgang Kille, Alica and Mary Bader, brothers-in-law and sisters-in-law, Ellie Kille, Bill and Jeanie Powell, John and Donna Bader and friends including, Elnora Leyes, Kay Sutton, Irene Liszewski, Ingrat, Dorid and many more. In addition to her husband and parents, she was preceded in death by her brother and her beloved canine friends, Annu and Sheiba.
Visitation will be from 10:30 a.m. until 11 a.m. Friday, September 7, 2012 at Milton Lawns Memorial Park Chapel, 2200 Milton Avenue, Janesville to be followed by funeral services at 11 a.m. Friday in the chapel. Burial will be in Milton Lawns. Memorials may be made to the Rock County Humane Society in Margarethe's name.
Arrangements are by Henke-Clarson Funeral Home. www.henkeclarson.com.