Marian Alfreida Olson
April 11, 1917 - December 18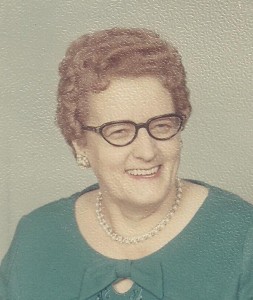 Marian Alfreida Olson, 93, of Janesville, WI passed away on Saturday, December 18, 2010 at Cedar View Health Center in Janesville. Marian was born on April 11, 1917 in Cumberland, WI, the daughter of Walter and Alfreida (Roberg) O'Kane. She graduated from Cumberland High School. She was confirmed at the Augustana Lutheran Church. Marian was married in that church to Dale E. Hergert on May 1, 1937. They lived in Janesville where Dale was a home builder until his death on November 15, 1950. Marian often did the painting and decorating in the homes he built. She also worked as a hostess and cashier at the Monterey Hotel. She was active as a 4-H foods and nutrition leader. On October 9, 1954, Marian married Clifford J. Olson of Woodford, WI. They farmed near Monroe until 1958. Marian worked as a timekeeper at Amphenol until 1964. She later worked as a bookkeeper for Wisconsin Provision Company and then as a receptionist for Dr. A. S. Hoyum for 7 years. Cliff and Marian met at a dance and enjoyed dancing for many years. She was an avid reader. Her happiness was knitting, cooking and baking for relatives and friends. Every Christmas, she baked many Norwegian treats and took them to shut-ins. Marian thrived on humor. She was a member of First Lutheran Church where she formerly taught Sunday school. Cliff and Marian enjoyed 20 years of fishing at their cabin on Bear Lake near Rice Lake.
Marian was preceded in death by both of her husbands, by her son, Dale "Scottie"
Hergert, by her parents, her step-father, Robert Randall, her grandparents,, her beloved sister, Sylvia, her brother, Walter, nieces, nephews and many friends. She is survived by two grandsons, Tracy and Todd, three great granddaughters, Brittany, Skyler and Stevie, one great great grandson, Braden all of Beaumont, TX, two sisters, Eileen (Norman) Leader of Seattle, Washington, Betty Lundell of Brooksville, Florida, a sister-in-law, Margaret Olson of Monroe, nieces, nephews and many friends.
Marian was very grateful for the many friends who made it possible for her to remain at home for so long and for Jean Yeomans who kept her supplied with library books.
"A beautiful life has come to an end. She died as she lived, everyone's friend. In our hearts a memory will always be kept of one we loved and will never forget".
Funeral services will be at 11 a.m. Thursday, December 23, 2010 at First Lutheran Church, 612 N. Randall Avenue, Janesville with Pastor James Melvin officiating.
Visitation will be from 10 a.m. until 11 a.m. Thursday at First Lutheran Church.
Burial will be in Oak Hill Cemetery. Memorials may be made to First Lutheran Church Foundation. Assisting the family is Henke-Clarson Funeral Home. www.henkeclarson.com.