Marian Alice Heise
May 30, 1928 - December 30, 2013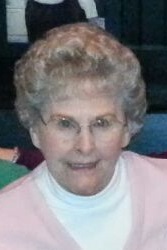 Marian Alice Heise, 85, of Janesville, WI passed away December 30, 2013 at Mercy Hospital & Trauma Center. She was born on May 30, 1928 in Morton Grove, IL, the daughter of Roland and Ruth (Gifford) Lasher. Marian graduated from Milton Union High School in 1946. While in high school she was a cheerleader, helped write the school fight song and drew the caricature of the Redman, the school mascot for many years. She was active with her graduating class reunion committee for many years. Marian married Donald K. Heise on February 8, 1947. He preceded her in death September 29,1998. From 1978 until 1990 she and Donald owned and operated the Maradon Resort in Winter, WI. While in Winter, Marian created The Last Frontier Musky Tournament and was an active participant of the snowmobile club. The Heises returned to Janesville in 1990. Marian was a member of the Janesville Bowling Hall of Fame. She was an artist and enjoyed doing crafting. She was a member of St. Peter's Lutheran Church.
Surviving are 4 daughters, Donna (David) Bailey and Kris (John) Hoffland both of Janesville, Billie (Dave) Devlin of Machesney Park, IL, Karla ( Mike) Suhsen of Phillips, WI, 10 grandchildren, Karl Bailey, Matthew (Vanessa) Bailey, Kristi (Shane) Downing, Jason (Michael Wirtanen) Stilwell, Angie (Mike) Hoffland, Heather ( David) Hoffland, Erin (Lukas) Devlin, Brett (Quinn) Devlin, Dan (Tasha) Suhsen, Bryanne (Matt) Bolenbaugh, 19 great-grandchildren and 1 sister, Beverly Sherman, several nieces, nephews and dear friends. She was preceded in death by her husband, 1 daughter, Debra Stilwell, her parents, 2 sisters, Arlene Rusch and Gloria Clark and an infant brother, Kenneth Lasher.
Funeral services will be at 12 Noon Tuesday, January 7, 2014 at St. Peter's Lutheran Church, 1422 Center Avenue, Janesville with burial to follow in the Town of Rock Cemetery. Pastor Bruce Gray will officiate. Visitation will be at the Church from 10 a.m. Tuesday until the time of services. Henke-Clarson Funeral Home is assisting the family.