Marilyn S. (Traxel) Burki
May 30, 1932 - March 28, 2018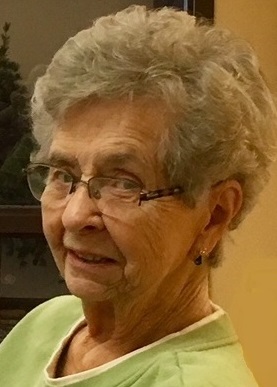 Marilyn S. (Traxel) Burki, age 85, of Janesville, WI passed away on March 28, 2018 at Cedar Crest Health Center. She was born in Chicago, IL on May 30, 1932, the daughter of Otto W. and Catherine (Reimers) Schulz. She graduated from Lake View High School in Chicago in 1950. On June 2, 1951, she married Warren L. Traxel; he died August 27, 1979. Marilyn married Palmer E. Burki on May 26, 1984; he died November 27, 1995.
She was a member of Cargill United Methodist Church since 1975. At the church she was a member of Ruth Circle and was a Stephen Minister. She was also a member of the Cedar Crest Auxiliary and the Mercy Hospital Auxiliary.
Marilyn is survived by her children: Douglas (Connie Becker) Traxel of White Lake, WI, Nancy Reilley of Coon Rapids, MN, her former daughter-in-law, Susan Traxel of Arlington Heights, IL, two grandsons, Travis Reilley and Bryan Traxel. She was preceded in death by her two husbands, her parents and her brother, William.
Funeral services are at 10:30 a.m. Tuesday, April 3, 2018 at Cargill United Methodist Church, 2000 Wesley Avenue, Janesville. Rev. Susan Lockman will officiate. Burial will follow in Oak Hill Cemetery. Visitation will be from 4 to 7 p.m. Monday, April 2nd at Henke-Clarson Funeral Home, 1010 N. Wright Rd., Janesville and at the church on Tuesday from 9:30 to 10:30 a.m. Memorials may be made to Cargill United Methodist Church or Cedar Crest.