Marshall W. Johnston
October 25,1919 - November 13, 2012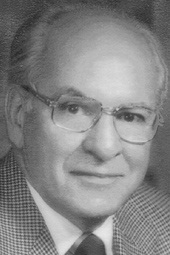 Marshall W. Johnston, 93, of Janesville, WI passed away on Tuesday, November 13, 2012 at Cedar Crest. He was born October 25th, 1919 in Gilbert MN, the son of Russell and Edna Johnston. He was married to Doris Ann Harrang in September of 1946. She preceded him in death in July of 2010.
Mr. Johnston is survived by his four children, Dorothy Ann (Terry) Kita of Minneapolis, MN, William (Shannon) Johnston of Madison, WI, Richard (Karen) Johnston of Bloomington, IL, and Robert (Sherry) Johnston of Sheboygan, WI. He had seven grandchildren, Ian Kita, (Brooklyn, NY), Emily Kita (Minneapolis), Erika (Johnston) Miner, (Champaign, IL), Nathan Johnston (Minneapolis), Michael Johnston (Denver, CO), Alison (Johnston) Meyers, (Omaha, NE) and Megan Johnston, (Fort Collins, CO) and nine great-grandchildren.
Marshall and Doris were long-time members of First Congregational Church of Janesville.
He was a 1939 graduate of University of Wisconsin-River Falls and attended graduate school at the University of Minnesota. He served in the United States Navy in World War II. It was during that time that he met his wife, Doris in Minneapolis and they were married shortly after the war. They began their life together in Watertown, SD, where he began his long and distinguished career in the newspaper industry. Starting as an advertising sales representative with the Watertown Public Opinion, he assumed various management positions, eventually moving his family to Janesville where he ultimately became the President and General Manager of the Janesville Gazette. He retired in 1988 and became Chairman of the Board of the Gazette Printing Company, parent company of the Gazette. He was widely respected in the newspaper industry as an authority on legislative matters that impact freedom of the press. He served for many years on the Wisconsin Newspaper Association's Freedom of Information Council and was especially active in promoting open government records and meetings.
He served on the Board of Directors of the Janesville Economic Development Corporation and the Board of Directors of the Fairhaven Retirement Home in Whitewater. He is a past president of Boys Baseball of Janesville, and a former board member of the Janesville YMCA, the Janesville Concert Association and the Beloit-Janesville Symphony Orchestra. He was recognized by the symphony in 1990 for his role in initiating the annual Fourth of July concerts in the park at the courthouse.
He had a great fondness for Blue Spring Lake, near Palmyra, WI. He and Doris purchased a summer home there in 1981 and in their later years spent many hours enjoying beautiful views, slow boat rides, and many happy times with family and friends. Even as adults, their grandchildren have wonderful memories of great times at the lake with Grandpa and Grandma J.
Visitation will be from 9 to 10 a.m. Saturday, November 17, 2012 at First Congregational Church UCC, 54 South Jackson Street, Janesville with funeral services to follow at 10 a.m. Saturday. Rev. Wes Bixby will officiate. Burial will follow in Oak Hill Cemetery. Memorials can be made to Rotary Gardens. The family is being assisted by Henke-Clarson Funeral Home.