Marvin O. Krueger
January 7, 1927 - November 10, 2010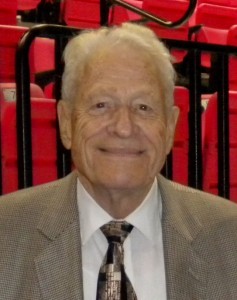 Marvin O. Krueger, age 83 years, of Milwaukee, passed away Wednesday, November 10, 2010.
Marvin Oscar Krueger was born January 7, 1927 at home in the township of Pella, Shawano County, Wisconsin, to Albert C. and Hertha (Spiegel) Krueger. He was born the 7th son on the 7th day of January in 1927. He was 7th of 8 sons, and 4 daughters totaling 12 children in his family.
 He was united in marriage on Sept 25, 1948 to Irene Ida Dalum in Marion.  The most important day of his and Irenes' life was January 14, 1954, when they jointly dedicated their life to Jehovah by water baptism. Marvin worked as a carpenter and eventually became a garage builder, which led to owning his own business "M. O. Krueger Construction Company". He was well known for his honorable work in the City of Milwaukee for the hundreds of garages he built over years. He enjoyed playing the accordion, and played in a band with his brothers for many years.
He had 6 children, 5 daughters, and 1 son, 27 grandchildren, and 18 great-grandchildren. He was preceded in death by his 2 daughters, Kristine age 38, and Connie, age 52, 1 son Daniel at age 50, 1 grandson Justin, age 13. He lost the love of his life, his dear wife Irene, in 2001. He is survived by his daughters Kathryn (Mike) Spataro, Joanne (the late Dave) Lambert, and Peggy Krueger. Marvin is also survived by his dear sisters Evelyn Ehlert and Marcella Helms, sister-in-law, Dolores (the late Albert) Krueger, and dear brothers Leo (Carol), and Orvil (Ann). He is further survived by many grandchildren and great-grandchildren, nieces and nephews, and many other relatives and friends.
Marvin Krueger was a active minister with the Congregation of Jehovah's Witnesses. He helped build numerous kingdom halls all over the state. He consulted to judicial committees for the states of Illinois, Iowa, and Wisconsin. Until the age of 82, he served as an ordained Minister in the local congregation of Jehovah's Witnesses in Janesville. Marvin oversaw the construction project of  the Assembly Hall on N. Wright Road in Janesville in 1975. Upon completion of the assembly hall, he and his wife Irene resided on site and served as its manager for 33 years. Always ready to help others, he served on the hospital liaison committee, aiding hospitalized fellow witnesses. He spent the last year of his life living with his daughter, Joanne, in Milwaukee, and served as an elder and special pioneer in the Wilson Park Congregation.
Marvin Oscar Krueger will be remembered for his kind words, generosity and sense of humor, but especially for his 56 years of faithful service to his God, Jehovah.
The family wishes to thank all the staff at Vitas Ruth Hospice and Lisa from "A Place for Mom". Special thanks to Dr. Dixie Patel from Lakeshore Medical of South Milwaukee for the loving care given to our father Marvin.
Services will be at 6:30 p.m. Friday, November 19, 2010 at the Assembly Hall of Jehovah's Witnesses 207 S. Wright Rd. Janesville, WI 53546. Visitation will be from 2 to 5 p.m. Friday at Henke-Clarson Funeral Home 1010 N. Wright Rd. Janesville. www.henkeclarson.com