Mary M. Krause
September 26. 1920 - January 9, 2015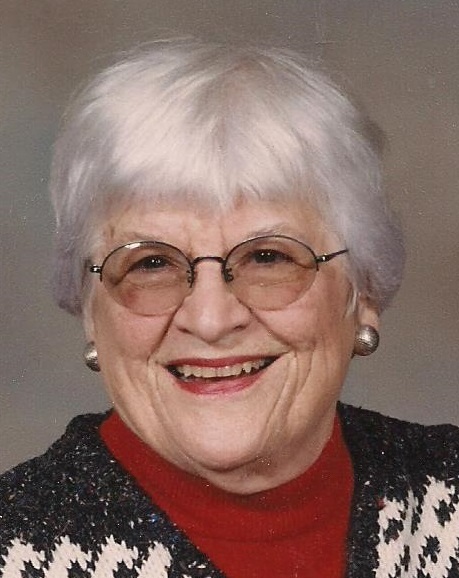 Mary M. Krause, age 94, of Janesville died Friday, January 9, 2015 at Cedar Crest. She was born September 26, 1920 in Bloomington, WI, the daughter of Frank and Clara (Richter) Myers. She graduated from Bloomington High School. She enrolled in Groover Business School and after graduation, went to work for the Farm Bureau in Lancaster, WI. She moved to Janesville to live with her sister, Leona Myers. After moving to Janesville, Mary went to work as a bookkeeper for Dr. Audrey Pember and several of his assistants. On July 24, she married Ed Krause and joined the family business, Krause's Town & Country Restaurant as the bookkeeper. Mary was a member of Zonta, Professional Business Women's and the Red Hatters. She enjoyed golfing, playing bridge, was an avid reader and Chicago Cubs fan. She enjoyed traveling and traveled with her husband to China, Europe, Alaska and over much of the United States.
She was preceded in death by her parents, her husband, two sisters, Leona and Hildegarde, five brothers, George, Alfred, Roy, Harley and William.
She is survived by her daughter, Jean Krause Schwartzlow and son in-law, W.W. "Bud" Schwartzlow, her sister, Marge Wilson, three grandchildren, Lana (David – deceased) Van Galder, Janet (Dennis) Fugate, Jane (Blaine) Vance, six great-grandchildren, Allen (Jamie) Fugate, Scott (Hany) Fugate, Arra (Ladel) Van Galder-Cass, Leah (Joe) Lidbury, Brody (Lara) Vance, Lacy (Adam) Wolters, eight great-
great-grandchildren, Alex, Carter, Aris, Davis, Ellery, Brooke, twins Conner and Kelsey, many nieces and nephews.
" Mary's wishes to thank the Cedar Crest staff, Chaplain Mary of Cedar Crest and Agrace Hospice for all of your kind assistance."
Funeral services will be at 11 a.m. Thursday, January 15, 2015 at First Presbyterian Church, 17 N. Jackson Street, Janesville with Rev. Dr. Bruce A. Jones officiating. Burial will be in Fassett Cemetery, Edgerton. Visitation will be at First Presbyterian Church on Thursday from 10 to 11 a.m. Memorials may be made to First Presbyterian Church, Agrace Hospice or Cedar Crest. The family is being assisted by Henke-Clarson Funeral Home.