Maxine Elaine Kessinger
March 8, 1929 - May 6, 2012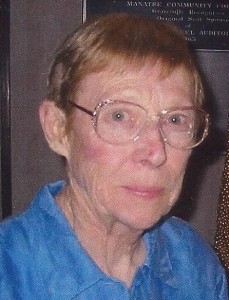 Maxine Elaine Kessinger, 83, of Janesville, WI passed away at Cedar Crest Memory Care Unit on Sunday, May 6, 2012. Maxine was born on March 8, 1929 in Janesville, the daughter of Stanley and Mae Wells. She graduated from Janesville High School in 1947 and attended Milton College for two years. On June 11, 1950, Maxine married Wiley Kessinger. They had two sons, Dale and Randy and one daughter, Gail. Maxine was employed as a instructional aid at Adams School for several years and was associated with the family business, Wells Chrysler-Dodge, for many years. She was a member of First Lutheran Church for over 80 years. Maxine loved children and dogs. She enjoyed playing bridge and visiting with her many lady friends. During her years as a homemaker and mom, she took pride in her considerable talents including sewing clothing for herself and her family. Her love of foreign travel took her to many countries around the world.
She is survived by her husband of 61 years, Wiley, one son, Dale (Sonya) of Madison, WI, two grandchildren, Walter and Elliot Kessinger, a son-in-law, Donald Steinke of Janesville, one brother, Jerry (Phyllis) Wells of Janesville, one niece, Pam Wells and one cousin, Joanne Hallmark. In addition to her parents, Maxine was preceded in death by one son, Randy and her daughter, Gail Steinke.
Maxine's family wishes to thank the staff at Cedar Crest, including all of her caregivers over the years for the wonderful care she received.
Funeral services will be at 11:30 a.m. Wednesday, May 9, 2012 at First Lutheran Church, 612 N. Randall Avenue, Janesville with Rev. James Melvin presiding. Visitation will be from 10 to 11:30 a.m. Wednesday at the Church. Burial will be in Milton Lawns Memorial Park. Lasting memorials may be made to First Lutheran Church or the charity of the donor's choice. The family is being assisted by Henke-Clarson Funeral Home. www.henkeclarson.com.