Maxx David Stageman
December 25, 2006 - May 27, 2016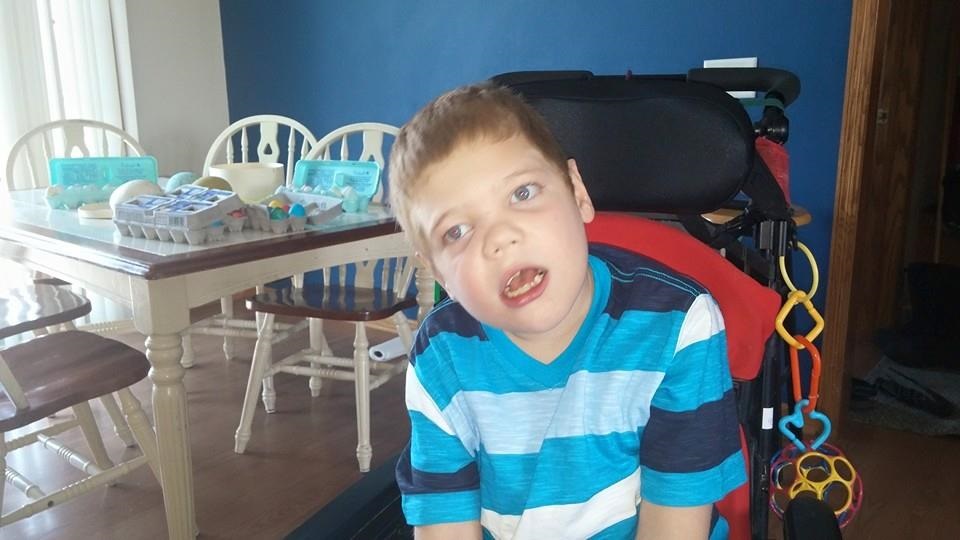 MAXX DAVID STAGEMAN, 9, was born on Mon., December 25, 2006 to Marie Jackson and Steven Stageman Jr. in Janesville, WI. He was born at 1:52 AM at Mercy Hospital in Janesville, WI. He passed away unexpectedly from a massive brain hemorrhage on Fri., May 27, 2016 at 2:38 AM at American Family Children's Hospital in Madison, WI.
Maxx had extensive health problems and many surgeries in his short life, yet met every day with smiles and laughter, teaching everyone around him what life was really about. Maxx was a very happy little boy. He also was very flirtatious with all the ladies. Maxx won the hearts of everyone. He was lovable, cute, handsome, and such a ham. He enjoyed playing with his parents, sisters, friends, and many others. He loved to play ball and with his rain stick. He enjoyed watching Mickey Mouse Clubhouse.
Maxx is survived by his parents, Marie Jackson and Steve Stageman Jr., his 3 sisters, Megan, Ericka, and Braelyn, his grandparents: Steve Stageman Sr., Jan Shaw, David Brey, and Chris McCarthy, his 3 great-grandmothers: Mary Lee Reuss, Bernice Brey, Elaine Stageman, his Aunt Andrea (Chris) Mullins, his Uncle Brad (Hailey) Brey, his Aunt/Godmother Staci McCarthy, his other 2 Godmothers, Amie Moore and Stephanie Kitchen, his great-aunts and uncles: June and Jim Cook and Barb and Denny Burnett. Maxx is also survived by his cousins, Ben and Dominic Mullins, Brent, Garrett, and Mallory Cook, and Denielle Burnette. Many more extended family members and friends. He is preceded in death by his great-grandfathers, George Reuss, Vernon Brey, and Max Stageman.
We would like to take this opportunity to thank all of the doctors and nurses who took care of Maxx at the American Family Children's Hospital in Madison, WI. A very, very special thank you to Maxx's Neurosurgeon, Dr. Benny Iskandar and his staff. Benny has been there for us for 9 years. He and his staff were just awesome. We also would like to give a special thank you to the Palliative Care and Complex Care staff. Thank you also goes to Maxx's great-aunt, Lisa Slagg for being Maxx's caregiver while I worked. All of the staff at the Waisman Center. Dean Clinic Janesville East, Department of Pediatrics: Dr. Julie Waraksa—Pediatrician, Jennifer—RN, and Sharon—MA. Children's Dental Center of Madison. UW Health Rehab Clinic in Middleton, WI.
Also, thank you to all of the wonderful teachers, therapists, aides, and all the rest of the staff through the Janesville School District.
Visitation will be held on Saturday, June 11, 2016 from Noon-2 PM at Henke-Clarson Funeral Home 1010 N. Wright Rd., Janesville, WI. A Memorial service will follow the visitation with the Rev. DeeAnn Woods and Rev. Rick Hamilton officiating. Luncheon will be held afterwards at First Christian Church on 1909 Highland Ave., Janesville, WI. Our family requests attire for the memorial service be NO Black, suits, or ties. Please wear one of the following colors: Green, Purple, Blue, or Red. Our family is requesting no flowers or plants, instead memorial gifts can be sent to First Christian Church.