Merlin C. Kanter
April 13, 1931 - January 14, 2012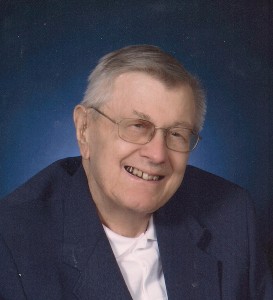 Merlin C. Kanter, of Janesville, joined our heavenly Father, Saturday, January 14, 2012. He was born on the family farm in Milton Junction, April 13, 1931, son of Frank and Eleonore (Hedke) Kanter, youngest of five children. He graduated from Milton High School in 1948 and married his first and only love, Gerd Engebretson, at Central Lutheran Church, Edgerton on August 9, 1952.
Merlin worked for General Motors until 1960 before becoming an insurance representative for Woodman Accident & Life (now Assurity) and other companies until his retirement in 2011.
A servant of God, Merlin participated on several committees at Faith Lutheran Church, Janesville during his almost fifty years as a member. He was also active with Kiwanis club projects, Meals-On-Wheels, Terrific Kids, and Madison School Breakfast Club.
He was a master of the do-it-yourself projects, helping others wherever needed, an avid golfer, and loved his Sunday afternoon Green Bay Packer games. He enjoyed spending time with family and friends, traveling by car and trains.
He is greatly missed by his wife of almost 60 years, three children: Judy (Gary) Barwig, Nancy Kanter, Bonnie (Lee) Kanter-Braem; brother, Arlo W. Kanter, Janesville, and nine grandchildren: Heather (Adam) Korte, Jaime (Jeff) Barwig-Slutz, Lindsay Kowal, Ashley (Shane) Barwig-Smith, Peter Barwig, Josh Kanter-Kowal, Brandon Doud, Amber (Nick) McCoic and Jess Kanter-Kowal; great grandson, Rex Korte. He was preceded in death by his parents and many good friends, nieces and nephews; one brother, Lyle Kanter, two sisters, Ivy Rupnow and Verla Lasse.
The family wishes to thank Dr. Bowers, Dr. Robinson, Dr. Volkert, the staff of Mercy Health System and Agrace Hospice for their gentle care given to Merlin during his illness. In lieu of other expressions of sympathy, memorials may be given to Faith Lutheran Church, Agrace Hospice Care or the charity of your choice.
Funeral services will be at 11 a.m. Thursday, January 19, 2012 at Faith Lutheran Church,
2116 Mineral Point Avenue, Janesville with Rev. David Andert and Rev. Shane S. Smith officiating. Visitation will be from 4 to 7 p.m. Wednesday, January 18th at Henke-Clarson Funeral Home, 1010 N. Wright Rd., Janesville and at the church on Thursday from 10 to 11 a.m. www.henkeclarson.com.