Mildred C. (Lippens) Rye
June 27, 1912 - June 17, 2012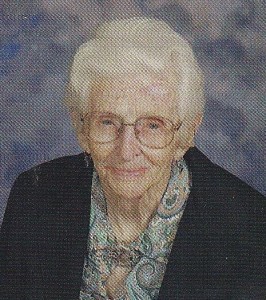 Mildred C. (Lippens) Rye, 99, of Janesville, a life-long Rock County resident passed away Sunday, June 17, 2012 at St. Elizabeth Nursing Home. Mildred was born in Plymouth Township, Rock County on June 27, 1912, the daughter of Claude and Genevieve (Cavey) Horkey. She graduated from Rock County Normal School, U-W. Whitewater and received a masters degree in education from U-W Madison. During World War II, she served as a civilian instructor at Truax Field in Madison. Mildred taught school for 40 years, teaching in rural Rock County schools, served as the first principal of Hillcrest Elementary School and prior to retiring in 1974, taught at Franklin Middle School in Janesville. Mildred married Andrew Lippens on November 3, 1945. He died July 14, 1962. She married George Rye on May 29, 1965. He died June 1, 1997. While she was married to George Rye, she resided in Johnstown Township where he farmed. Mildred has been a member of St. John Vianney Catholic Church since 1962. She was also a member of the D.A.R., Colonial Dames of the 17th Century, Janesville Area Retired Educators, the Fairfield Grange, the Rock-Walworth Pamona Grange, the State Grange and a former member of the Rock County Normal School Alumni Association.
Surviving are her son, John Lippens of Janesville, her daughter in law, Kay (Vic) Holtzee of rural Avalon, five grandchildren, Tom Lippens, Tim (Samantha) Lippens, Dan (Natalie) Lippens, Nate Lippens, Jamie Lippens, five great-grandchildren, Michael Thomas Lippens, Tyler Lippens, Brodie Lippens, Emma Lippens, Finleigh Hough, several cousins, including two that were raised in the Horkey home, Edith Johnson, Beatrice (Floyd) Olson, three nieces, Diana (David) Hagen, Marilyn (Wayne) Anderson, Gale (Donald) Nestor as well as many other Lippens and Rye family members. Mildred was preceded in death by her husbands, her son, Michael Lippens, her daughter in law, Linda Lippens, her parents, her brother, Emery (Ellen) Horkey and a cousin who was reared in the Horkey home, Daniel Cavey.
A Mass of Christian Burial will be at 10:30 a.m. Friday, June 22, 2012 at St. John Vianney Catholic Church, Janesville. The celebrant will be Father Tom Marr. Burial will be in Mt. Thabor Cemetery, Beloit. Visitation will be from 4 to 6 p.m. Thursday, June 21st at Henke-Clarson Funeral Home, 1010 N. Wright Rd., Janesville. www.henkeclarson.com.