Nancy Lynn Carney
February 22, 1954 - January 14, 2011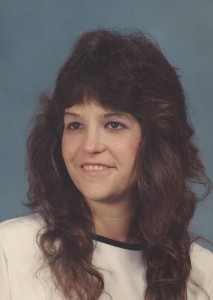 Nancy Lynn Carney, 45, of Janesville/Afton passed away Friday, January 14, 2011 at her home with her family at her side following a brave and courageous battle with cancer. Nancy was born in Janesville on February 22, 1965, the daughter of Thomas and Betty (Breiby) Lewis. She attended Janesville Craig High School and Blackhawk Technical College. Nancy was married on May 7, 1993 to Andrew Carney. She had been employed as a teacher at Headstart and had owned and operated Grow N Train Day Care Center. She formerly taught Sunday School at First Congregational Church in Janesville.
Surviving are her husband, Andrew Carney, 4 children, Crystal (Jon Krueger) Baker, Cody, Cierra and Carissa Carney, her brother, Steve Lewis, her "mom and dad" Carol and Tom Carney, brothers-in-law and sisters-in-law, Paul (Rebecca) Carney and Renee (Tom) Sigwarth, nieces and nephews. Her parents preceded her in death.
A time to celebrate Nancy's life will be Monday, January 17, 2011 at Midwest Christian Center, 336 N. Jackson Street Janesville with a time to meet the family from 5:30 p.m. to 6 p.m. and the celebration service to begin at 6 p.m. The family asked that those who attend, please wear bright, festive clothing to help celebrate Nancy's wishes that she has now entered a better place. Assisting the family is Henke-Clarson Funeral Home. www.henkeclarson.com.
I'm Free
Don't grieve for me, for now I'm free, I'm following the path God laid for me.
I took His hand when I heard him call, I turned my back and left it all
I could not stay another day, To laugh, to love, to work or play.
Tasks left undone must stay that way. I found that peace at the close of day.
If my parting has left a void, then fill it with remembered joy.
A friendship shared, a laugh, a kiss. Ah yes, these things, I too, will miss.
Be not burdened with times of sorrow. I wish you the sunshine of tomorrow.
My life's been full, I savored much. Good friends, good times, a loved one's touch
Perhaps my time seemed all too brief, Don't lengthen it now with undue grief.
Lift up your heart and share with me, God wanted me now, He set me free.
Author Unknown