Neale L. Zimmerlee
December 25, 1930 - November 9, 2010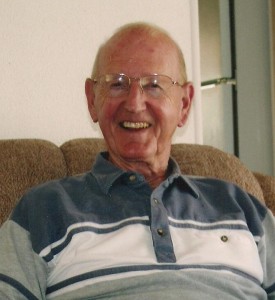 Neale L. Zimmerlee, 79, of Janesville, WI passed away on Tuesday, November 9, 2010 at Mercy Hospital. Neale was born on December 25, 1930 in Williamston, MI, the son of Clayton and Cordelia Ellison Zimmerlee. He grew up in Charlotte, MI where he attended school. He graduated from Charlotte High School where he was active in sports including football, basketball and track. Neale married Dorothy Gruszynski on November 7, 1953. They resided in the Kalamazoo, MI area where they raised their family. He was employed as a manager by Household Finance Company and later for the Nelson Loan Company. Following retirement in 1987, the Zimmerlee's moved to Arkansas where they spent 15 wonderful retirement years making new friends, golfing, boating and enjoying social activities. They moved to Janesville in 2003. Neale was a member of St. Mary Catholic Church in Milton.
Survivors include his wife, Dorothy, 5 children, Andrea (Dave) Matthusen, Janine (Dave) Holmes, Don (Deana) Zimmerlee, Lori Pfeiffer, Jon (Lisa) Zimmerlee, 10 grandchildren, a sister, Bernice (Irv) Disler and a brother, Everett (Marian) Zimmerlee. Neale's parents, preceded him in death.
A memorial Mass will be held at 10 a.m. Saturday, November 27, 2010 at St. Mary Catholic Church, Milton with Monsignor James Uppena presiding. A luncheon and fellowship will follow in the church's fellowship hall for all attendees wishing to visit with the family. In lieu of other expressions of sympathy, memorials may be made to the Alzheimer's Support Center of Janesville, HospiceCare, Inc of Janesville or St. Jude's Children Hospital of Memphis, TN. Assisting the family is Henke-Clarson Funeral Home. www.henkeclarson.com.