Norman Randall Nelson
April 20, 1927 - December 21, 2011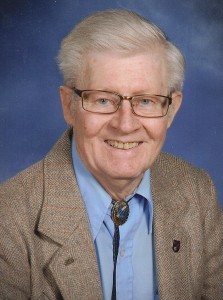 Norman Randall Nelson, 84, of Janesville went to be with the his Lord on Wednesday, December 21, 2011 following a short illness. Norman was born on April 20,1927 in Chicago, IL to Arnold and Myrtle (Kettleson) Nelson. He graduated from Lane Tech High School in Chicago in 1945 and then served in the Army Air Corps from 1945 to 1947 with the 11th Air Force 1oth Rescue Squadron in Alaska. On April 30, 1955, he married Eileen Velde in Chicago, IL. In 1957, they moved to Janesville where Norman worked several jobs prior to going to work at General Motors where he was employed for 34 years prior to retiring in 1992. He was a member of the Warbirds and the Sons of Norway. Norman loved spending time with friends and family, playing the guitar and singing country and gospel songs. He also enjoyed wood carving and cheering on the Packers.
He is survived by his wife of 56 years, Eileen, daughter, Linda (Jim) De Vries of Waupun, WI, brothers, Robert (Rheta) Nelson and Eugene (Shirley) Nelson both of Janesville, grandson, Marc (Brandi) Griffin of Beaver Dam, WI, granddaughters, Alicia Griffin of Rio, WI, Rebekah (Shane) Gaumitz of Kansas City, MO, long time best friend Bernard Gossett of Lake, MI, many nieces and nephews. He was preceded in death by his parents, Arnold and Myrtle, a son, Mike, daughter-in-law, Evelyn (Morrison), grandchildren, Candace and Matthew and a brother, Ronald.
"Honey, we will always love you and know we will see you someday"
Funeral services will be at 12 Noon Wednesday, December 28, 2011 at Turning Point Church, 2618 Mt. Zion Avenue, Janesville with Rev. Tom Zillman officiating. Visitation will be at the Church on Wednesday from 9:30 a.m. until Noon. Burial will be in Oak Hill Cemetery with military rites by Kienow-Hilt V.F.W. Post # 1621. A memorial fund will be established in Norman's name. Assisting the family is Henke-Clarson Funeral Home. www.henkeclarson.com.