Omar Elshatshat
January 1, 1948 - December 6, 2012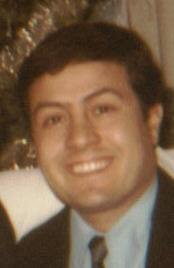 Omar M. Elshatshat, 64, of Janesville passed away, peacefully, on December 6, 2012. He was born on January 1st, 1948, in Benghazi, Libya, to Halima and Mohamed Elshatshat. He was married to Donna Oleson, on December 14th, 1973, in Oshkosh, WI.
Omar is survived by his mother, Halima, his daughter, Annisa Elshatshat, his brothers: Dr. Hussein Elshatshat of Texas, Dr. Mohamed Elshatshat of Italy, and Ali, Abubaker, Yousif, Hassan, Othman, and Abdel Monem Elshatshat; and his two sisters, Fatma and Eisha, who all reside in Benghazi, Libya. He is predeceased by his father, Mohamed, and his sister-in-law.
Omar graduated from UW Oshkosh, WI, and Blackhawk Technical College. He also attended the University of Iowa and Kishwaukee College. He owned Omar's Office Machine Repair and was part owner of Edgerton Office Supply. He enjoyed teaching English at Blackhawk Technical College.
Omar's kindness was genuine, and he came from a very loving and generous family.He had a passion for language and creative writing, and he enjoyed composing clever, meaningful quotes and poems. When inspired by others, he was known to create personalized poems, made especially for them, even if it was their first encounter. He coined the word "numeronon" to describe the occurrence of "Numerical Phenomenon", such as the date of 12/12/12, and he submitted a request to add the word to the dictionary.
He appreciated life, and he celebrated with his fruitful garden that he maintained for 30 years. He was never wasteful, and he was grateful for everything he had. Omar was unique, and if you were fortunate to have talked with him, the conversation would not end without your gaining knowledge, receiving a compliment, or laughing out loud. He loved to make people smile.
Although the world would benefit from having Omar on this earth, for eternity, we can all smile for him, thankful that he left our world in the peaceful way that he did. His daughter, Annisa, is so proud of her father, and she loved him as much as one could ever be loved. Omar's spirit will remain within us, forever.